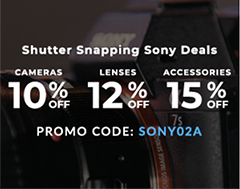 This deal runs for 24 hours only: 10% off Sony Cameras, 12% off Sony Lenses, and 15% off Sony Accessories with code "SONY02A" at KEH.com (Click here).
This means for example that you get the used Sony A9 for $3560 only. And the 24-70mm GM for $1840.
More deals:
Free xtras and $10 off with code "SAR" Luminar2018 and AuroraHDR.
The new Loxia lens preorders are now available at BHphoto and Adorama.
And the brand new Voigtlander 35mm f/1.4 FE lens is in Stock for the very first time via BHphoto.
Meike Battery Grip for the Sony A9 and A7rIII in Stock at Amazon US, Amazon CA, Amazon DE, Amazon UK.
10% discount on Capture One 11 (Click here) and Capture One 11 for Sony (Click here). Use the coupon code "AMBSAR".
Big new Sony US deals:
1) up to $900 off on Sony camera sand lenses. See full special page at BHphoto, Adorama, Buydig.
2) Up to $500 trade-in bonus to buy a Sony cameras. See special page at BHphoto, Adorama, Buydig, FocusCamera.