20 things you have to know about the Sony Alpha NEX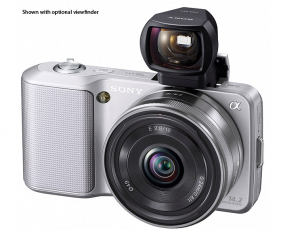 1. Strictly speaking, the Amazon Österreich
} if ($loc == 'DE') { $sel = "1"; ?>Amazon Deutschland
} if ($sel != '1') {?>Sony NEX
} ?> is not an EVIL (electronic viewfinder, interchangeable lens) camera since it does not have an EVF.
2. NEX stands for New E-mount eXperience.
3. "E" is chosen because of the flange focal distance (mount-to-sensor distance) of eighteen (18) mm.
4. With E-mount lenses, Intelligent AF (where the scene is continuously monitored for changes to ensure fast contrast detection AF) will kick in. This works in both still photo and movie shooting.
5. The E-mount lenses feature Optical SteadyShot image stabilization.
6. During MF or DMF mode, you can rotate the focus ring to enlarge the image on the LCD by 7 or 14x.
7. NEX-5 can record HD movies in either AVCHD (1920 x 1080 @ 59.94i / 50i) or MP4 (1440 x 1080 @ 29.97 / 25 fps). 60i or 50i / NTSC or PAL depends on where you bought the camera.
8. NEX-3 records HD movies in MP4 (1280 x 720 @ 29.97 fps).
9. The 3D Sweep Panorama photo is created by generating two shots – 1 for each eye – thus there's no need for 2 lenses.
10. The 3D photo uses the Multi-Picture Format. On a non 3D-capable TV, the JPEG file is displayed instead.
11. The firmware to enable 3D Sweep Panorama function will come in July, downloadable via Sony's website.
12. The Auto HDR function now captures and combines 3 photos into 1 for a maximum of 6 EV between exposures.
13. Other than the final HDR photo, an additional photo (the 2nd of the 3 shots) is saved.
14. The NEX works with Apple's iMovie.
15. The NEX has only a single card slot, but it's compatible with both Memory Stick and SD cards. SDXC is supported.
16. The NEX is compatible with Eye-Fi cards, including the latest Pro X2 card.
17. An optional optical viewfinder attachment (FDA-SV1) is available.
18. An optional mount adapter (LA-EA1) lets you use your A-mount lenses (manual focus) on the NEX. But not with the 2 A-mount teleconverters.
19. The new E-mount 18-200mm F3.5-6.3 OSS lens has an additional Active mode that also exists in some of Sony's latest Handycam camcorders. Active mode allows the lens to shift over a greater range of motion, thus enabling even greater camera shake compensation.
20. 2 converters are available for use on the E-mount 16mm F2.8 wide-angle lens. The VCL-ECU1 is an ultra wide converter (~12mm effective focal length). The VCL-ECF1 is a fisheye converter (~10mm effective focal length).
Very cool list!
Source: http://hasht.ag/20-things-about-the-sony-alpha-nex