All news about the new Sony A99II at Photokina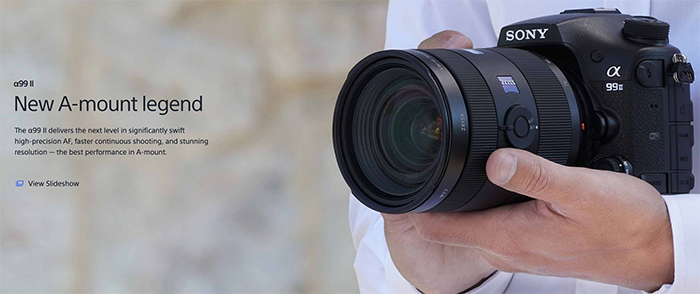 Photokina opened his doors today and plenty of bloggers and SAR readers are sending us their hands-on reports and impressions. This post will be continually updated with new informations.
Photokina A99II newsfeed:
Hands-on with Sony a99 II at Dpreview. There is finally some small info about the new menu:
Sony has refreshed the camera's menus to make them both easier to navigate and to remember. Some associated features have now been clustered together – you can find all the movie options in the same place, for instance.
The tabs as the top of the menu are also now color coded, to help you recognise and remember which section of the menu you're in. Whether this is be visible enough to help you recall where a particular setting is remains to be seen but it's great to see Sony taking steps to address their menu system.
Sony A99 II Hands-On First Impressions: Time with Sony's new professional speed demon (Imaging Resource):
"The autofocus system was very quick and seemed to lock onto targets as well as track them fairly well."
Sony A99 II Continuous AF Tracking Demo video on Youtube.
First Look by Adorama Learning Center.
A99II hands-on pictures at Photographyblog.
Tony Northrup v-log about the A99II (He says it's a more interesting camera than the new Canon and Nikon DSLR)
Sony a99 II autofocus and buffer demo on SAR.
Italian A99II hands-on video by Ridble on Youtube.
Something else: First 1 Terabyte SD card announced (more info at Mirrorlessrumors).
Preorders:
The camera will be available for preorder tomorrow (September 21) at 11am New York time at BHphoto (Click here) and Adorama (Click here).
Poll:


Loading ...
Official Press material:
Original coverage post on SAR.
The full press text can be read here at SAR
Official A99II page can be seen at Sony UK.
Image samples at Sony.net.
Brochure available for download (PDF).
The full video of the Photokina announcement on SAR.
The Sony A99II official videos from Sony