Capture One 12.0.3 adds Sony A6400 support and multiple fixes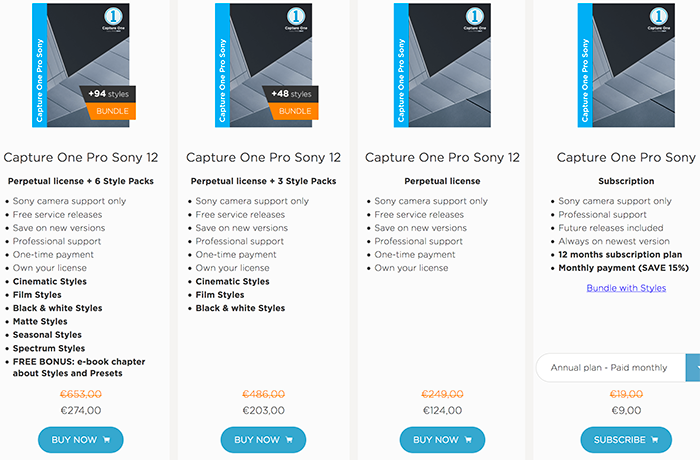 First a reminder: The Capture One deal on all Sony packages (Click here) has been extended to April 30! You save 50% on the perpetual license, the subscription pan and the style bundles.
And today official support for the new Sony A6400 and the Tokina 20mm FE AF lens has been added.
12.0.3 Bug Fixes Mac
• Fixed an issue in the Next Capture Adjustments tool where it was not possible to select a new style if it had overwritten an existing one
• Fixed an issue where it was not possible to move images to a different drive/partition
• Fixed an issue where the content of some session folders where sometimes
inconsistent compared to their equivalent in system folders
• Fixed an issue where Leaf Drivers Kext did not install properly
• Fixed an issue in the Camera Inspector tool where long advice messages were not
fully visible
• Fixed an issue where scaled preview was not sharp compared to previous versions
of Capture One
• Fixed a crash that sometimes occurred while picking in the color editor on an image
with applied Fuji lm Film Simulation
• AppleScript: Fixed an issue where AppleEvent handler failed in session folders
• AppleScript: Fixed an issue where 'selected' property did not work when session
folder was selected
12.0.3 Bug Fixes Win
• Fixed an issue where moving images from Media Pro to Capture One resulted in hierarchical keywords
• Fixed an issue when deleting images and then shooting new images with the exact same name made them not show up in the thumbnail browser
• Fixed a crash that sometimes occurred while picking in the color editor on an image with applied Fuji lm Film Simulation
12.0.3 Additional notes
The workspace in Capture One Express (Mac and Win) has been updated to bring a more intuitive experience