You are browsing the archive for news Archives - Page 594 of 599 - sonyalpharumors.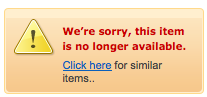 Cocheck it for yourself at Adorama.
Dc.watch.impress.jp interviewed Katsumoto Tetsu from Sony. I read the interview 3 times and yes, there is nothing new to tell you.
The japanese blog dc.wathc.impress.jp posted some image samples taken with the Sony A550+30mm macro combo. Click here to read the google english translation.
P.S.: We noticed that most of the Sony news and reviews we find around the web are talking about the include("buy/550.php"); ?> camera. Interesting or not?
The camera made it into the top 10 japanese DSLR sales (again)! http://bcnranking.jp/category/subcategory_0008.html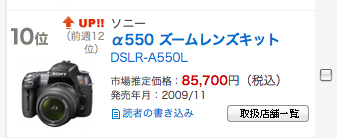 Click here to order the camera at amazon: include("buy/550.php"); ?>
Interesting Sony press release
"TOKYO, Japan, November 27, 2009 – Seiko Epson Corporation ("Epson") and Sony Corporation ("Sony") today announced that as of December 1, the sales function of the small- and medium-sized TFT LCD business (excluding high-temperature polysilicon TFT LCDs, etc.) of Epson Imaging Devices Corporation ("Epson Imaging") would be transferred to Sony and Sony Mobile Display Corporation ("SMD").
On June 30, 2009, Epson and Sony announced the execution of an agreement to transfer to the Sony group certain assets of the small- and medium-sized TFT LCD business operated by Epson Imaging. Placing foremost priority on the needs of its customers, Epson Imaging has continued its preparations as it has sought to transfer the sales function of that business to the Sony group by the end of the calendar year. As preparations are now complete, the sales function of that business will be transferred to the newly established SMD sales department and Sony group overseas sales offices on December 1. In accordance with this transfer, Epson Imaging will cease worldwide sales activities on November 30, and some of the staff employed in that business will be either transferred or seconded to the Sony group.
Expediting the assumption of the sales function will allow the Sony group to create a powerful small- and medium-sized TFT LCD business with a broad product lineup and a structure capable of responding even better to the needs of its customers.
The Epson group will work to assure a smooth and expeditious transfer, scheduled to be carried out by April 1, 2010, of certain manufacturing-related assets of Epson Imaging for that business, and will continue to work closely with the Sony group to facilitate the further growth and success of the small- and medium-sized TFT LCD business.
About Epson and Epson Imaging
Epson is a global imaging and innovation leader that is dedicated to exceeding the vision of customers worldwide through its compact, energy-saving, high-precision technologies, with a product lineup ranging from printers and 3LCD projectors for business and the home, to electronic and crystal devices.
Led by the Japan-based Seiko Epson Corporation, the Epson group comprises over 70,000 employees in 106 companies around the world, and is proud of its ongoing contributions to the global environment and the communities in which it operates. http://www.epson.co.jp/e/
Epson Imaging Devices Corporation is a leader of small- and medium-sized LCD products.
About Sony Corporation
Sony Corporation is a leading manufacturer of audio, video, game, communications, key device and information technology products for the consumer and professional markets. With its music, pictures, computer entertainment and on-line businesses, Sony is uniquely positioned to be the leading electronics and entertainment company in the world. Sony recorded consolidated annual sales of approximately $79 billion for the fiscal year ended March 31, 2009. Sony Global Web Site: http://www.sony.net/"
via: alphamountworld
Red just announced detailled specs and prices of the Red Scarlet camera. Is Red a real strong Sony competitor? Not yet but some of their ideas are wonderfull (and I really would love to see some of the Scarlet specs in future Sony cameras) but only time will tell us if they can really appeal the consumer-professional market. You can see some pictures here:
[nggallery id=1]