Continually updated -> Latest rumors and news from the Sony PMA presentation

Dear readers,
as you probably know on Sunday Sony will keep a presentation for the press at the PMA show. We will continually update this post with latest rumors and news. So keep following us here!
RELOAD THE PAGE EVERY 2 MINUTES (not earlier to avoid database crashes)
UPDATE 45:
That's it guys! We will now write a new post with all the previews, hands-on and other details (click here)!
I hope you enjoyed the live-coverage :)
Cheers
P.S: follow us on twitter! Subscribe our RSS feed!
UPDATE 44:
Pictures available here:
http://news.sel.sony.com/en/image_library/images/small/consumer/digital_imaging/digital_cameras/dslr/detail?archive=0&page=2
http://news.sel.sony.com/images/large/consumer/digital_imaging/digital_cameras/dslr/PMA_DSLR_onp_lg.jpg
UPDATE 43:
LIVE-> first A7xx pictures!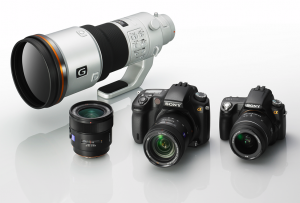 UPDATE 42:
LIVE-> first NEX pictures (mockups!)

UPDATE 42:
LIVE-> Now he talks about the next Alpha camera which also will use the new Exmor APS HD CMOS sensor. AVCHD compresison Full HD (1080p)
UPDATE 41:
LIVE-> Of course APS-C. Body is very compact!
UPDATE 40:
LIVE-> Masashi Imamura shows the mockup of the new Sony mirrorless camera! It has the Exmor APS HD CMOS sensor.
UPDATE 39:
LIVE -> Sony's strength "We make our own lenses, sensors and processors"
UPDATE 38:
LIVE-> Masashi Imamura is starting to talk about the A7xx!
UPDATE 37:
LIVE-> Sony is talking about the HX5. So nothing exciting now :)
UPDATE 36:
Press conference started! We will update you live with all the informations! Teload the page pressing the "F5" key!
UPDATE 35:
Video of the pre-press conference here! http://www.twitvid.com/4EB29

UPDATE 34:
http://twitter.com/SonyElectronics
Thanks 1001noisycameras.com for finding the link
UPDATE 33:
So here we are. Someone sent us the link to the old Sony CES live stream. It doesn't look like they will stream the PMA event! This is the ols CES stream :(
http://www.ustream.tv/channel/sony-ces-press-conference-2010
UPDATE 32:
No Alpha Fullframe camera at PMA
UPDATE 31:
Confimrs from another source -> A7xx: 1080 30p recording. In Stock soon after the announcement!
UPDATE 30:
40 minutes to go! There will be no Sony Live-streaming from the event. We are watching all the biggest Sony website and forums and if we find something interesting we will link you to them!
UPDATE 29:
One of our source told us that the mirrorless cameras won't have Built-in IS to make the camera even thinner.
UPDATE 28:
So now we have the calm before the storm.
UPDATE 27:
So, now it is time to find the name of the A700 successor. If you knwo somehting contact us at sonyalpharumors@gmail.com.
Around the web we fins some names A730 or A735. But what will be the real name?
P.S: If someone is on PMA feel free to send us your pictures!
UPDATE 26:
E-mount to A-mount adapter is about $ 200 USD
UPDATE 25:
Editor's note: Feel free to post our informations on your blog or forum. Anyway I would be happy if you put a link on our website. That's the best way to support us…thanks!
UPDATE 24:
The Sony A700
successor will be available soon! it is not just a concept camera!
UPDATE 23:
Mirrorless cameras do have in LENS Super SteadyShot!
UPDATE 22: And even more news about the mirrorless cameras!
Body price under 1000 USD
– Have lens 18-200mm about 900-1000 USD (very expensive but similar price of 14-140mm Panasonic)
– 16mm f/2.8 (confirmed)
UPDATE 21: More news about the A700 successor
– Body smaller than the A700
– 2 live view mode as A550
– Sweep Panorama
– Video HD
UPDATE 20:
CZ Distagon T* 24mm uses 72mm filter!
UPDATE 19:
Our rumors were right. And now follow us on twitter! Subscribe our RSS feed!
:)
UPDATE 18: HOT!!!!!!!!!!!!!!!!!
"ANAHEIM, CALIF. (PMA #2220), Feb. 21, 2010 – Sony is exhibiting an array of innovative digital imaging products at the Photo Marketing Association (PMA) 2010 International Convention, including a concept model of the new compact α (alpha) DSLR camera system that employs an Exmorâ"¢ APS HD CMOS sensor, which provides full AVCHD video capability.
New concept α products being shown include an ultra compact model with interchangeable lenses, additions to the α family (including a successor to the α700), along with new TX5 and H55 Cyber-shot® cameras, new printers and other accessories.
α DSLR Camera
In addition to the current DSLR-A230, A330, A380, A500, A550, A850 and A900 digital SLR cameras, the following concept camera bodies and interchangeable lenses will be exhibited. Current interchange lenses, including Carl Zeiss® and G lens products will also be on display.
* Concept model of an ultra-compact interchangeable lens digital camera system that packs the quality of a DSLR camera in an extraordinarily small body, along with interchangeable lenses
* Mid-range concept camera for advanced users (a successor to the α700) as well as concept mainstream models
* Prototype of a Super Telephoto Lens (500mm F4 G) with class-leading optical performance
* Prototype of a Distagon T 24mm F2 ZA SSM, new Carl Zeiss wide angle lens for superior shots of landscapes and sweeping vistas "
source: http://news.sel.sony.com/en/press_room/consumer/digital_imaging/digital_cameras/cyber-shot/release/56463.html
UPDATE 17:
FROM VERY TRUSTED SOURCE->
Two of the new Sony mirrorless cameras (The Nex3 and the NEX5) should be available in Q2 (between April and June). In summary: Sony will show you mockups of their new NEX mirrorless interchangeable lenses cameras at PMA. The real camera will be nicer! Also the specs we leaked are not completely exact. I was told the cameras do have better specs!!! That's damn good news guys!
This are the specs we leaked one week ago (and I let you imagine which part of the specs will be better):
NEX 3
14mp APS-C CMOS
support RAW
3′ LCD,920K
11 point AF
ISO 200 to12800
720p Mp4 and AVCHD
support SDHC
NEX 5
14mp APS-C CMOS
Support RAW
3′ LCD,920K
11 point AF
ISO 200 to 12800
1080/24p Mp4 and AVCHD
Support SDHC
UPDATE 16:
Around the web people is speculating with the A7xx having the same HighISO (12800!) as the Canon 7D

P.S.: I hope Sony managed to archieve better High-Iso results!
UPDATE 15:
Quick speculated comparison between the future two big competitors:
| | |
| --- | --- |
| Panasonic GH2 | Sony NEX7 |
| 14-15 Megapixel sensor | 14 Megapixel sensor |
| 1080 60/50p recording | 1080 60/50i (or progressive?) recording |
| AVCHD at 28Mbit/s | XDCAM at 35Mbit/s |
| Autofocus: contrast autofocus | Autofocus: Sensor based phase detection? |
UPDATE 14:
New Sigma lenses for Alpha mount!
– 8-16mm F4.5-5.6 DC HSM (dpreview)
– 17-50mm F2.8 EX DC OS HSM (dpreview)
– 50-500mm F4.5-6.3 DG OS HSM (dpreview)
– 70-200mm F2.8 EX DG OS HSM (dpreview)
– 85mm F1.4 EX DG HSM (dpreview)
UPDATE 13:
Sony is going to show mockups of the mirrorless NEX cameras. I was told that the real cameras do look better :)
UPDATE 12:
Never used google translation that much. I am reading chinese korean and japanese forums all the time :)
I am also working on the SonyAlphaRumors redesign. I really need to clean up the website!
UPDATE 11:
One of our readers + one chinese source do say Sony is preparing the launch of following lenses (we are not sure all will be shown at PMA):
– Carl Zeiss Distagon T* 24mm f/2 ZA SSM
– 500mm f/4
– 35mm f/2 SAM (i don't know DT or full-frame)
– 85mm f/2.8 SAM
– Maybe 70-300mm f/4.-5.6 SAM
UPDATE 10:
I am back again (it is early in the morning here in Europe).
UPDATE 9:
It is midnight here in Europe. I will take some rest and check for rumors early in the morning. Tomorrow it is going to become a very exciting day!
P.S.: keep following us! We will update you with every news we found around the web!
UPDATE 8:
One of my trusted sources didn't give me any specs but he has seen the camera and told me that "I review many cameras…and I really believe the Sony A700 successor will become a Hot-Seller. I would definitely buy one!"
The same feeling has been expressed by the administrator of the Dutch Sony forum: "I think the best APS-C cam I've seen in times…Everything, but really all the trimmings…There is really very hard work by Sony to get all this together"
UPDATE 7
Sony product announcement this Sunday at 9am PST (pacific time).
– 5pm London time
– 6pm (or 18.00) Berlin time
– midnight (or 24.00) Tokyo time
UPDATE 6
Sony could show mockups only of the new mirrorless cameras! So probably no real camera yet? We hope some of our trusted sources can confirm (or deny) the rumor soon.
UPDATE 5
We are continually checking around for more news.
If you have rumors/news to share contact us at sonyalpharumors@gmail.com
UPDATE 4
We also expect the new 500mm lens to be finally unveiled. According to one chinese rumor there could be some more lenses (all primes). This rumor has not been confirmed by our soruces.
UPDATE 3
The president of Sony Spain said 3D Cybershot cameras should come very soon (probably at PMA). We don't know if they will show mockups or market ready products.
UPDATE 2
Sony is going to show us the future camera concepts. This probably includes the pellix mirror based Alpha camera (not confirmed from our sources).
UPDATE 1
The Sony A700
successor is going to be unveiled at the show. The camera records video and includes all latest Sony improvements. We were told that the Sony A7 series will be pretty awesome!