D'ho! Notification regarding iris blades issue on the Fuji 18-55mm T2.9 E-mount Cine Lens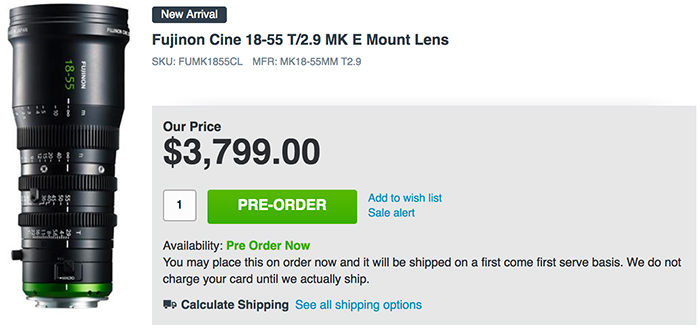 Fujinon Cine 18-55mm T/2.9 E-mount lens at BHphoto and Adorama.
Fujinon Cine 50-135mm T/2.9 E-mount lens at BHphoto.
–
D'ho! Fuji just issued a statement because their new 18-5mm E-mount Cine Lens has an issue. The iris blades do not move correctly:
Notification regarding iris blades on the MK18-55mm T2.9
Dear Valued customers
Thank you for using Fujifilm products.
We have received feedback from a few customers that the iris blades did not move correctly when the iris ring was rotated.
As a result of our internal investigation, we found the potential risk that the MK18-55mm lens produced in a partial production lot, in rare cases, would cause the above problem.
Therefore, our technical staff will inspect your MK18-55mm lens with the following mentioned serial numbers free of charge. For more information, please contact your shop or dealer where you purchased the MK18-55mm lens to make arrangements to have your MK18-55mm lens sent for inspection.
We do apologize to any of our loyal customers that may be affected by this inconvenience. Please rest assured of Fujifilm's absolute commitment to quality and service excellence.
Serial number :
From 75A00001 to 75A00354
*

You can find the serial number near the ring on the lens mount side (see image on right).