Dpreview says the Sony A9 real problem is the color output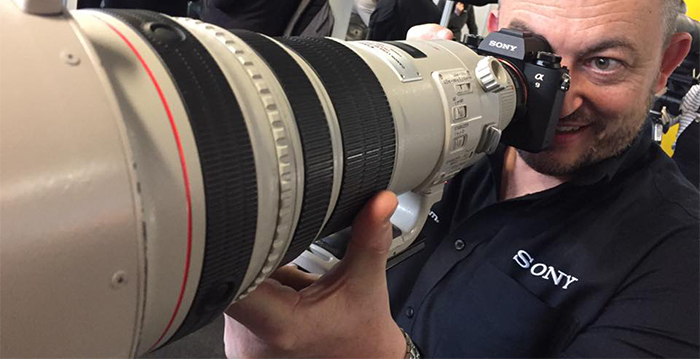 Paul Bunyard says A9 focus fast on the huge Canon 500mm lens. Info and images here:  facebook.com/groups/sonyalphacamera/
Sony A9 at BHphoto, Adorama, Amazon
Dpreview analyzed the A9 RAW files (note: pre-production camera!). First the good news:
Noise appears to be well-controlled, and they're very malleable, even at the high ISO values we found ourselves shooting at.a
And now the bad news:
These issues with color are exacerbated with auto white balance that struggled under artificial light (see the skaters at the top of the page). Sure, it's not difficult to dial in a custom white balance for a sideline photographer shooting under the same light all evening, but it's something to note nonetheless as auto white balance can be valuable for fast-moving photographers in fast-changing situations.
While this is also in some measure a matter of personal taste I kinda have to agree that Sony still is a tiny bit behind the great color quality of Canon. Of course this isn't something to worry about if you have time to work on files. But I do hope Sony will further improve the color performance via future firmware upgrade so that we have to spend less time on post processing.
–
Sony A9:
Sony A9 at BHphoto, Adorama, Amazon, BestBuy. FocusCamera. Calumet.de. Park UK. Wex UK. Jessops.
Sony A9 with Grip Extension Kit at BHphoto, Adorama and Amazon.
Note: US readers preordering the A9 at BHphoto or Adorama using our links (and our affiliated links only!) have a chance to win a Sony A9.
100-400mm GM:
Sony 100-400mm GM at BHphoto, Amazon, Adorama, BestBuy. Calumet.de. Park UK. Wex UK. Jessops.
Sony A9 accessories:
Sony A9 battery grip at Adorama, Bhphoto, Amazon. Wex UK. Jessops.
Sony A9 Glass screen protector at Adorama, BHphoto, Amazon.
NP-FZ100 battery for the A9 at Adorama, BHphoto, Amazon. Jessops.
GP-EX1 grip at Adorama, BHphoto, Amazon. Wex UK.
FDA-EP18 eye cup at Adorama, BHphoto.
MQZ1 multi battery charger at Adorama, BHphoto, Amazon. Wex UK.
BCQZ1 Z-series Battery Charger at Adorama, BHphoto, Amazon