FastRawViewer releases the new "SonyPixelShift2DNG" software for Sony's Pixel Shift Multi Shooting
The folks from FastRawViewer worked on a new special software that supports Sony's Pixel Shift Multi Shooting. The software name is "SonyPixelShift2DNG" and you can download it here: https://www.fastrawviewer.com/SonyPixelShift2DNG
–
A Few Words about Sony Pixel Shift Multi Shooting Mode
The new Sony A7R-III has a new mode in it, the Pixel Shift Multi Shooting, in which the camera takes 4 consecutive shots applying a one-pixel shift between the shots. With ordinary RAW files taken with a regular Bayer sensor, only one of the four RGBG color channels is sampled in each pixel location. To guess the unknown color data, we need to preform demosaicking. However, by performing one-pixel shifts of the sensor during the shoot, we can sample information about all four color channels at each pixel location. Thus, we don't need to demosaic during the conversion anymore, which decreases moiré, improves resolution and color accuracy, and we have an option to average the green channels for every location, improving the dynamic range in the combined channel by approximately half a stop (obviously, one can only shoot static scenes in such a mode).

The workflow for processing files taken it Pixel Shift Multi Shooting mode suggested by the manufacturer (Sony) is as follows: combine four ARW files into one ARQ file using the Sony Imaging Edge Viewer application and process the resulting ARQ file in the Sony Editor.
Aside from Sony programs, ARQ files are supported by beta versions of RawTherapee, RawDigger and FastRawViewer (this list may be incomplete). However, it isn't supported by some very popular RAW conversion applications like Adobe Camera Raw/Lightroom, Capture One,…
Purpose of SonyPixelShift2DNG Application
In order to streamline the workflow with the raw shots taken in the new Pixel Shift Multi Shooting mode offered by the new Sony A7R-III camera, and provide a way to use popular RAW converters (Adobe Camera Raw/Lightroom, Capture One, and some others) for processing these shots, we've developed the SonyPixelShift2DNG application, which converts Sony A7R-III shots taken in Pixel Shift mode to DNG, supported by most (but not all) programs that process RAW files.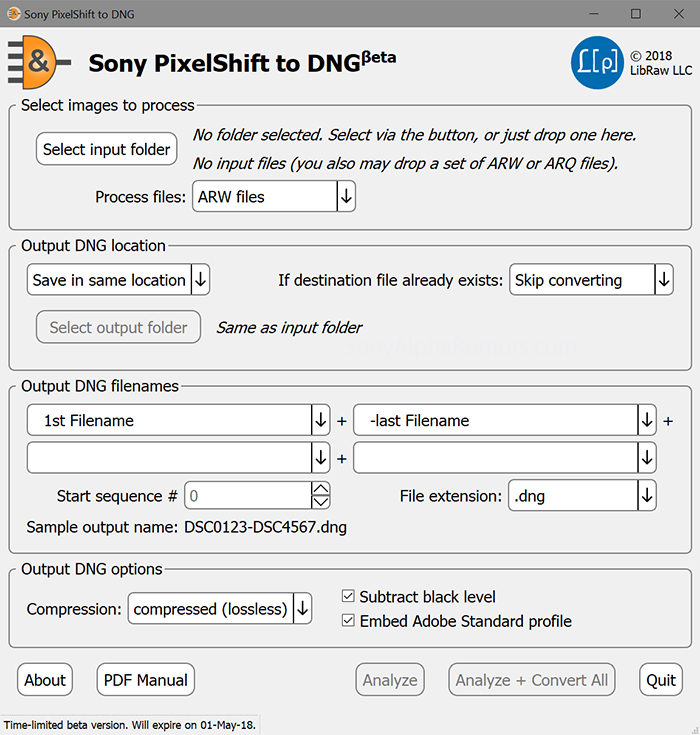 SonyPixelShift2DNG performs the two following tasks:
• Combine 4 source ARW files taken in Pixel Shift Multi Shooting mode and save the result as a DNG;
• Convert the ARQ files resulting from Sony's Imaging Edge Viewer software (so, already-combined quartets of ARW files) to DNG
The resulting DNG files can later be processed in familiar applications like Adobe Lightroom and Camera Raw, CaptureOne, Iridient Developer, Luminar, and others.
Also, here is the Manual for the application: wetransfer.com
Samples:
The left part is a regular shot, the right part is Pixel Shift result. Click on files to enlarge:
More info and download at fastrawviewer.com/SonyPixelShift2DNG