First review of the new NiSi 15mm f/4.0 FE lens by Phillip Reeve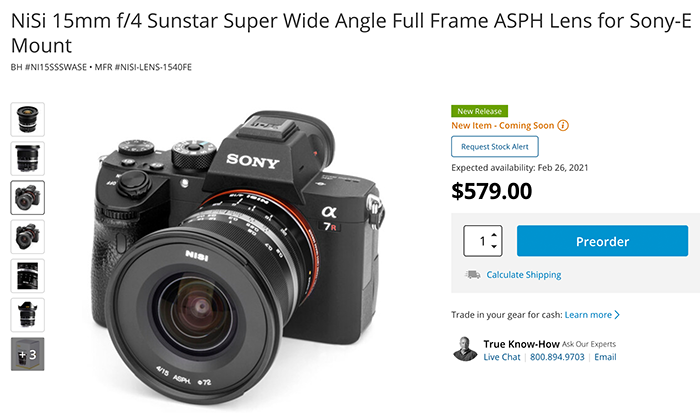 You can now preorder the new Nisi 15mm FE lens at BHphoto and Adorama.
Phillip Reeve tested the lens and concludes:
As I know many of you just scroll down here let me remind you that this was a pre production sample and there may be slight changes for the final production model.

Sometimes lenses from new manufacturers leave a lot to be desired and lately we have often seen lenses with staggering specs at low pricepoints that ended up not being really useful because too many compromises had to be made.
Luckily this is not the case here, I found the NiSi 15mm 4.0 to be a useful lens that did not disappoint in the field.
I especially like that it was fully usable at f/4.0 (very little field curvature) and that vignetting at this aperture is comparably moderate.

It should be noted though that there is also some competition in this focal length range, so let us discuss how the NiSi 15mm 4.0 fits in here:
First we have the Voigtlander 15mm 4.5 E, it has noticeably higher vignetting, similarly nice sunstars, but is a bit lighter and comes with electronic contacts, better flare resistance and with a 58mm filter thread. For some the non-removable hood may be a no-go though, as it makes using filters significantly harder, it is ~40% more expensive.
Then we have the Laowa 14mm 4.0, a lens that is very small and light but showed some issues with field curvature in our review and again comes with very high vignetting at f/4.0 (about 1 EV higher), no electronic contacts, nice sunstars, 52mm filter thread and a non-removable lens hood, it is similarly priced.
Then we have the Laowa 15mm 2.0, full two stops faster while similarly sized (heavier though), same vignetting at shared apertures, no electronic contacts, not well defined sunstars (early pre 2019 E-mount version) also 72mm filter thread and a removable hood, ~50% more expensive.

None of these options is a slouch, I told you about the differences, choose depending on your applications and budget which would work best for you.