First review of the Zenitar 50mm f/0,95 FE lens by Bastian Katzke: "So much is wrong with this lens"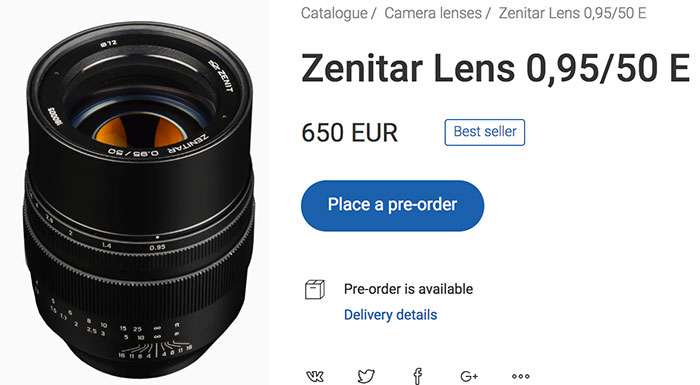 You can now preorder the lens directly at Zenit.photo.
Bastian Katzke reviewed the new Zenitar 50mm f/0,95 FE lens and this is likely to be the wworse lens ever made for the FF E-mount cameras:
So much is wrong with this lens, I don't even know where to start.
The lens is super heavy, yet the build quality isn't exactly great. Both rings are a bit scratchy with uneven resistance, markings are not engraved, the lens hood is wobbly and reflective on the inside.

Sharpness and contrast at f/0.95 are far from good, especially off center. By f/1.4 the lens starts to show acceptable resolution and contrast, but there are many more reasonable 50mm f/1.4 lenses available that offer the same and more for much less money and bulk.

Distortion is unusually high for a 50mm lens. Astigmatism and coma are both very badly corrected. You get completely black corners when stopping the lens down and flare resistance at wider apertures is the worst I have ever seen.

Now all those things may still be acceptable for some, if the only alternative was the Leica Noctilux 50mm 0.95 costing 10 grand. But that is not the case. We have the Zhong Yi Mitakon 50mm 0.95 MKII and MKIII. Both lenses are optically superior, seem to have actually been designed for E-mount cameras and at the same time they are much smaller and lighter and not even more expensive.

In my opinion there is absolutely no reason to get this lens. You have been warned.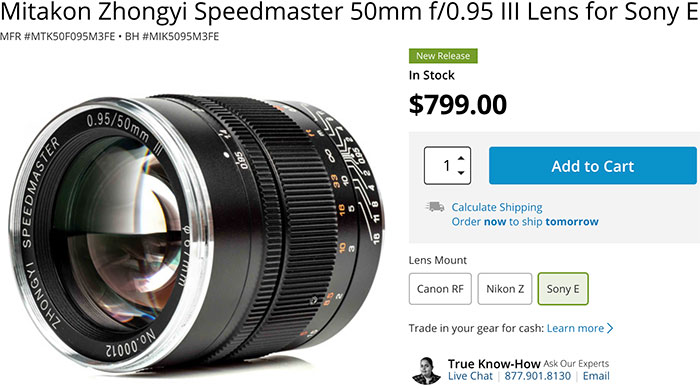 The new Mitakon Speedmaster 50mm f/0,95 III is available at Adorama and BHphoto.
Thanks Vladimir for sharing this.