Full Tamron 28-75mm FE review by Leonardo Carrizo: "on the A7rIII it's insanely sharp"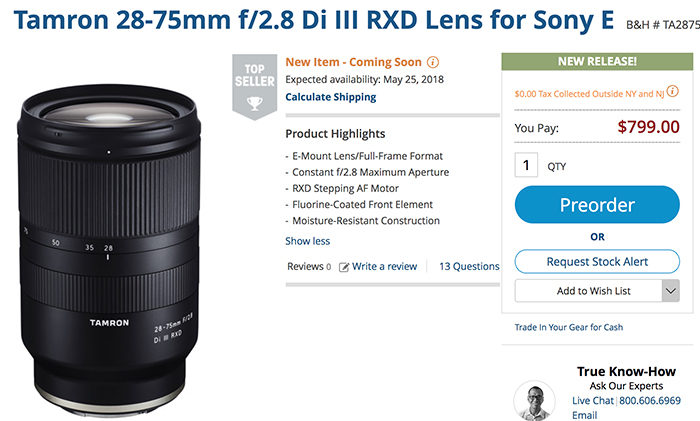 Preorders: The Tamron lens is now available for preorder at BHphoto, Amazon, BuyDig, FocusCamera and Adorama. In Europe at Amazon DE and WexUK.
Leonardo Carrizo posted his full Tamron 28-75mm FE review at Mpex-Experience.com. And folks, there is only good news to reports:
– But is it sharp? Yep, it's sharp! And on a 42 megapixels camera it's insanely sharp.
– From my experience it feels like a professional lens should feel in your hands.
– shooting at 28mm is wide enough for an environmental portrait and there is no risk of distortion.
– if you are shooting portraits this is a very good lens option.
– Another cool feature of the Tamron's 28-75mm f/2.8 Di RXD is its MOD (Minimum Object Distance) of 19cm or 7.5″. Basically, this means that you can shoot wide angle while keeping your subject close to you and sharp
Conclusion:
I truly enjoyed the awesome versatility of the Tamron 28-75mm f/2.8 Di RXD lens for Sony's full-frame mirrorless E-mount cameras. It's an extremely fast and sharp lens constructed for the hobbyist or professional photographer in mind. It can easily become the only lens you need for typical travel and street photography. At the same time, I wound not hesitate to take this lens on any commercial or editorial assignment as long as I have a Sony A7R III to go with it. After all, together, they are a perfect fit!
–