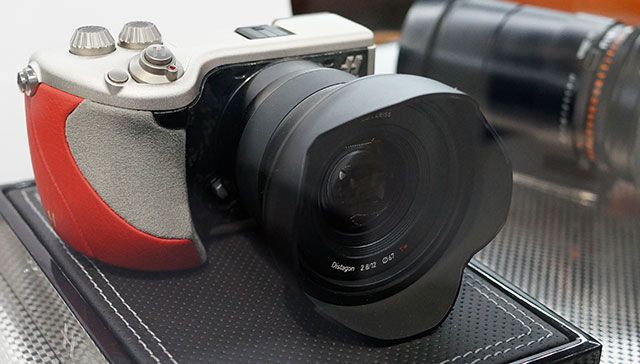 Lunar camera with the new Distagon E-mount Zeiss! (Image courtesy: Alexander Radojski)
 BJP reportsthat Hasselblad got "heavily denigrated" after the Lunar camera launch. And now Hasselblad is trying to explain why the price for the camera is correct. Business development manager, Luca Alessandrini said: "We are doing is buying different components from the best suppliers, and applying our knowledge and expertise to create a different camera. This is not a NEX 7 camera, just because we are buying components from Sony. The hardware is just a small part of the whole. It's not because we're using a Sony sensor that it makes the Lunar a Sony camera".
The camera body is made of aluminium and Luca Alessandrini said that it takes five hours to machine the body. That alone costs $300.Luca also said that they are ready to launch more camera that may be more different from current Sony cameras: "if Sony were to release a NEX 9, Hasselblad would not automatically use the camera's technology to unveil its own version"
—-
Some Hasselblad video by Branding Value, FotoTVplus, Centrum Papieru (polish).