High Dynamic range Starvis 2 sensors spotted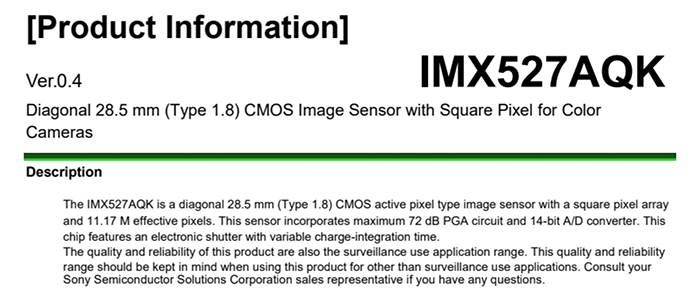 I got the following info from two different sources. It's about the new generation Starvis 2 sensors from Sony:
Source 1:
I have heard that Sony plans to produce high dynamic range STARVIS 2 sensors, which have excellent NIR performance and excellent dynamic range. The FHD version contains the Type 1/2.8 and Type 1/1.2 sizes. The 4.1 megapixel version contains the Type 1/1.8, Type 1.1 sizes. 4K version contains Type 1/1.2, Type 1.8, Type 2.7.
The 4K Type 2.7 (35mm full frame) has Quad Gain Readout and provides 105dB of dynamic range at 12bit ADC and higher at 14bit ADC.

The exact technical specifications are not yet known, but such technology may be similar to ARRI's ALEV and Canon's DGO.
Source 2:
Sony produces three STARVIS 2 image sensors in 4K width class. They are the IMX485 (8.29 Mp, Type 1/1.2), IMX527 (11.17Mp, Type 1.8) and IMX487 (11.54Mp, Type 2.7), which feature pixel sizes of 2.9um, 5.8um and 8.7um respectively.

The STARVIS 2 sensor adds HCG readout to the regular STARVIS sensor, enabling dual gain reading and therefore achieving a dynamic range of more than eight times.

The IMX485 is the entry level 4K STARVIS 2 with a dynamic range of 88 dB and an affordable price that will make it the component of choice for many high performance surveillance devices.

The IMX527 is the high sensitivity version of the 4K STARVIS 2, which is compatible with normal APS-C lenses. It still offers an excellent dynamic range of over 90 dB in extreme low light situations, with an excellent signal to noise ratio. Its presence makes 4K night surveillance infinitely possible.

The IMX487 uses a large area of high-sensitivity pixels surrounded by a small area of high-saturation pixels (the area ratio is 8 to 1), which allows for separate dual-gain readout (Quad gain totally) for high quality high-sensitivity and high-saturation pixels. As a result, the flagship 4K STARVIS 2 sensor, the IMX487 delivers an impressively wide dynamic range of over 100 dB and a flawless picture with a high signal-to-noise ratio.

However the resolution of these sensors is so low that they should not be used in Sony's interchangeable lens cameras. APS-C is a marginal market for Sony, and the full-frame models clash with the new Alpha 7SIII and the probability of using them is low. But STARVIS 2 gives the possibility of Sony producing a high dynamic range sensor for interchangeable lens camera application scenarios.