Mark Galer finds faults in Tony's Northup "Pixel Density vs Noise" test.
On that Youtube video (Click here) Tony Northrup claims that there is actually almost no noise performance difference on still images between the A7s and D810 (once you downsize the D810 images). Mark Galer spotted some "problems" with Tony's test:
In response to Tony's Northup "Pixel Density vs Noise" test.
There are a couple of problems with Tony's argument. He is basing most of his judgement on a photograph of a white wall at ISO 6,400. The highlights of an image are more of an even playing field. The problematic area for noise in our digital images is to be found in the shadows and not the highlights. The test ISO has been capped at ISO 6,400 and the A7S low-light performance really becomes noticeable when the ISO is raised beyond ISO 6,400. 12,800 is the maximum ISO for the Nikon D810 (without artificially pushing it) and 25,600 is the maximum ISO for the A7m2 and A7R.
I would like to quote Ian Norman from the Lonely Speck website: "The sensor on the a7S is relatively ISOless between ISO 3200 and 51200. This means that for any given shutter speed and aperture setting, changing the ISO between these values shouldn't change the relative level of noise in the image."
http://www.lonelyspeck.com/sony-a7s-astrophotography-review/
This means that the A7S has two full stops more light collecting potential compared to the Nikon D810 for recording information in extremely low levels of ambient illumination, whilst holding onto the same levels of noise that is present in the files produced by the Nikon D810. I am not sure why Tony forget to mention this in his 22-minute video – but I can see why some people would begin to question his motive or expertise in making this assessment. This is a failure to recognise a significant leap in sensor development – and as Tony pointed out, the Video comparison at ISO 51,200 is profound – but Tony dismisses the A7S advantage as 'in-camera software processing' – truly bizarre.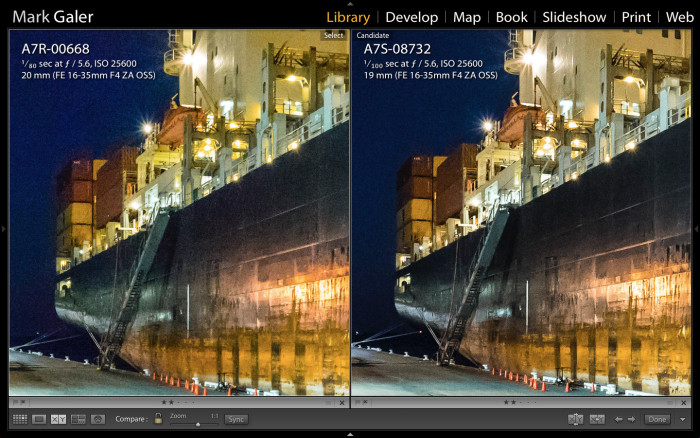 Click on image to see the full set of comparisons from Mark Galer.
Here is a link to the gallery of sample images.
https://www.flickr.com/photos/markgaler/sets/72157652903515692
This is a 'real world' test. No white wall and ISO values above and beyond the maximum setting capable by the Nikon D810.
I 'exposed to the right' and processed each file using the same settings in Adobe Lightroom. Noise reduction was switched off in camera. White balance was adjusted slightly to render the same colour for the pairs of files and a moderate amount of sharpening and noise reduction applied (+40 & +40).
The A7R stacks up well in these conditions (especially when expositing to the right) but the A7S still shows a clear advantage in additional detail and with less noise when the files from both cameras are exported as 4K files. The A7S still has a stop up its sleeve with noise at 51,200 not climbing above that being recorded at 25,600 although the low light conditions did not require any higher ISO values.
You can also discuss the matter on Mark Galer's SonyA7 Facebook group:
https://www.facebook.com/groups/AlphaA7/
Sony A7s store links:
Sony A7s in USA/CA at Amazon, Adorama, BHphoto, Sony USA, Sony Canada.
Sony A7s in Eu at Sony DE, UK, ES, FR, IT, NL, BE, AT, CH, SE, NO, FI, PL. And Wex UK.
A7s Gariz leather case in [shoplink 27569 ebay]Black (Click here)[/shoplink], [shoplink 27570 ebay]Brown (Click here)[/shoplink], [shoplink 27571 ebay]Red (Click here)[/shoplink] and [shoplink 27572 ebay]Orange (Click here)[/shoplink].