New Sony 35mm f/1.4 GM tested at Dpreview: "a lens easy to love"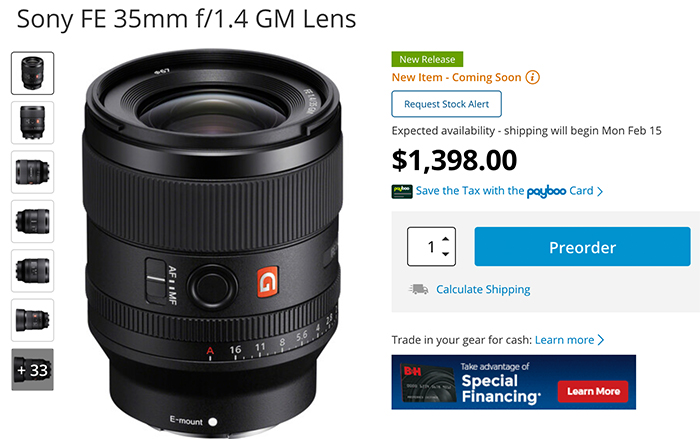 Sony 35mm GM preorders: BHphoto, Adorama, Amazon. In Europe at Amazon DE, Amazon UK, Amazon FR, Amazon IT, Amazon ES, Amazon NL, Fotokoch, Foto Erhardt, Calumet DE, WexUK, Park UK.
Dpreview published the full Sony 35mm f/1.4 GM review:
The Sony FE 35mm F1.4 GM is a lens that, so long as you get along with the 35mm field of view, is easy to love. It provides the kind of sharpness wide-open that we just wouldn't have expected to see in fast primes up until the last few years. Build quality is pretty much without fault, but the size and weight remain reasonable.

This is all the more impressive considering that the Sony 35mm F1.4 GM optically outperforms the older and larger Zeiss Distagon 35mm F1.4 ZA in nearly every way, while coming in at a lower price and smaller size. On the other hand, we were a little surprised to find that the Sigma 35mm F1.2 DG DN focuses faster. In real-world shooting though, it's unlikely to be an issue.

Really, the only aspect of the FE 35mm F1.4 GM that might be a major issue for stills shooters is its LoCA performance. Thankfully, it only shows up on especially high-contrast edges and at the widest apertures (you can rid yourself of it even in challenging scenes by F2 or so). And though it's something to be aware of, this is still the best performance for 35mm lenses that you'll find for Sony E-mount in this regard.

Beyond the LoCA, we can't complain about the bokeh, sunstars, flare resistance nor close-focus distance. So in short, this lens really is the long-overdue choice for professionals and advanced amateurs that are in the market for a fast E-mount 35mm prime for portraits, travel, landscape, journalism, or what-have-you. That makes it easily worthy of a strong recommendation and our highest award.