New Sony A7rII tests roundup.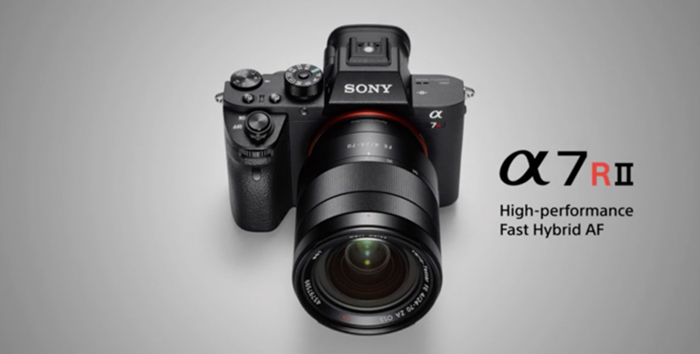 Reminder: A7rII in Stock and shipping worldwide at Digitalrev. Germans have gold box deals on Sandisk card.
LeButler on SonyAlphaForum posted the lust of pros and cons when using silent shutter mode:
Negatives:
-RAWs reduced to 12 bit (reduces dynamic range, though not noticeable in the majority of shots)
-Dark banding across the image under artificial light at certain shutter speeds (which are unpredictable, can avoid completely changing shutter speed)
-Expanded ISO modes not available
-No flash triggering

Positives:
+Silent
+Reduces shot-taking lag to virtually zero
+Less vibration = potentially sharper shots
+Nice little haptic feedback remains when taking a shot (on A7Rii)
+Presumably uses marginally less battery
+Presumably extends body lifetime
Our Sony A7R II and RX10 II hands-on previews continue (Imaging Resource).
How about collecting the information of adapter performance on A7Rii? (SonyAlphaForum).
Comparison: Sony A7RII with the A7R at base ISO (100) at Fred Miranda.
Sony A7RII Overheat Update (TheDigitalDigest)
3rd party af lenses on la ea3 by Mike Kobal.
High ISO samples at ThePhoBlographer.
A7rII and Batis test by Chad Wadsworth.
Full Sony A7rII review by Yannick Ciancanelli.
Sony A7R II Hot Pixel Issue (Photographylife).
Feature of the Sony a7rII — Silent Shooting Mode!! (Paul Gero).
Sony ILCE-7RM2 – #alphaddicted Teil 2 / part 2 (Joerg Haag).
Sony A7Rii Using 5 Axis Image Stabilization on Ducati Motorcycle shoot with fire by Jason Lanier on Youtube.
A7rII test with 135mm A-mount Zeiss by Jorge Torralba.
Sony Alpha 7R II Vorstellung am vergangenen Freitag bei Isarfoto.
Erste Testfotos Sony a7r Mark 2 (community.sony.de).
Hands on a7r2, rx10 mark2, rx100 mark4 at ClubSonos on Youtube.
Christian: "A strange image artifact with dotted lines: http://fotoschule.westbild.de/2015/08/erste-eindruecke-sony-a7rii/"
Kevin: "I'm leaving a series of Instagram (@kevinrwhitley) videos over my initial impressions with the A7R II.  These can also be found on facebook at https://www.facebook.com/kevin.r.whitley. The main difference between these and other reviews is I'm highlighting some of the not-so-great aspects of it that other reviewers seem to be ignoring.  Overall still positive, but just some issues for users to be aware of (e.g. grip issues)."
Chris: "Andrea, there's an easy fix for the long exposure noise, its something Sony cameras do internally every 30 days. Here's a thread discussing it: http://www.fredmiranda.com/forum/topic/1380165"
A7rII preorder list:
In USA: at Amazon, BHphoto, Adorama, SonyStore US, FocusCamera, Uniquephoto.
In Europe at Sony DE, UK, FR, IT, ES, NL, BE, CH, AT, SE, FI, NO, PT. Wex UK.
In Asia at Digitalrev, CameraPro.
A7rII case:
Gariz leather case in Black (Click here), Camel (Click here), Orange (Click here), Brown (Click here) and Red (Click here). Also available on Amazon US (Click here).
Gariz Alcantara case in Black (Click here) and Red (Click here). Also available on Amazon US (Click here).
Lim's case in Black (Click here), Brown (Click here), Red (Click here), Yellow (Click here), Navy Blue (Click here) and Khaki (Click here). Also available on Amazon US (Click here).