Nikkei published the 2019 market share data: Sony surpasses Nikon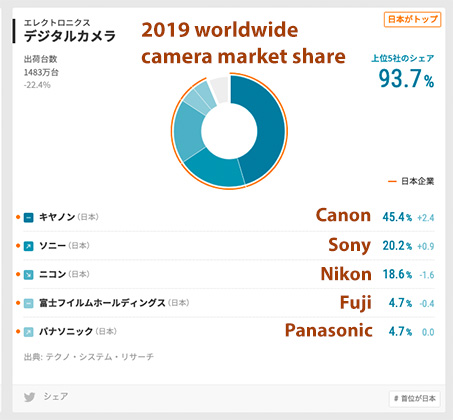 Nikkei has shared the 2019 worldwide camera share market data. Sony officially surpassed Nikon and claimed the second position. Surprising to me is the fact that Canon had a big +2,4% jump. But I guess many Canon DSLR owners bought the new EOS-R cameras.
The top five digital camera companies had a 93.7% share in 2019. Camera sales dropped down to 14.83 million units (-22.4%). Those are the market shares:

-Canon 45.4% (+2.4)
-Sony 20.2% (+0.9)
-Nikon 18.6% (-1.6)
-Fujifilm Holdings 4.7% (-0.4)
-Panasonic 4.7% (0.0)
Let's see how thing will go in 2020. Any prediction?
–
via DigicameInfo