Nikon manager confesses the big mistake: "Nikon was too late to the mirrorless game"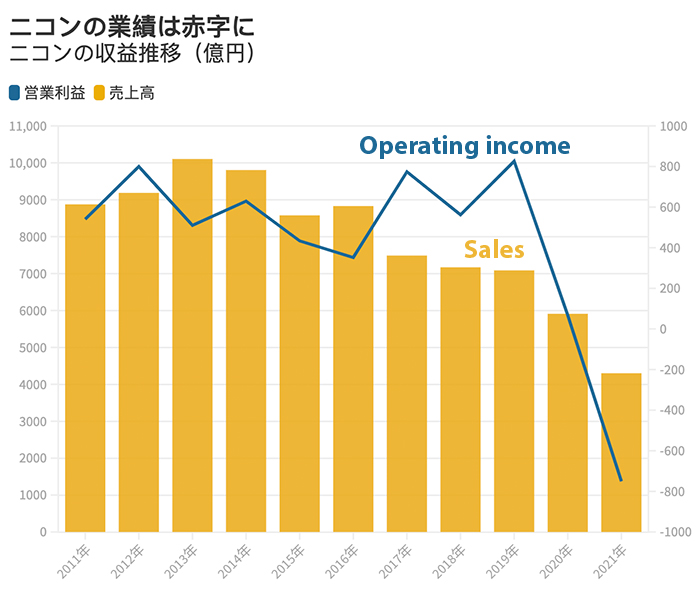 Toyokeizai published an article that sounds very worrisome for Nikon. They think that Nikon might be "the next Olympus". Nikon reported a historic $720M loss this year and if they don't turn around things they might be force to sell their imaging business just like Olympus did. There is a nice summary on Petapixel that describes the situation.
Ikegami, in an interview with Toyo Keizai, says that Nikon's poor showing can be directly tied to its slow transition to mirrorless. While Sony has experienced nothing but huge growth, Nikon was too late to the game.

"I wasn't afraid of conflict (with SLR cameras), but rather I wasn't looking at the market calmly and objectively," he says, translated from Japanese. "I was most concerned about how much the performance of the electronic viewfinder (EVF) can be improved, and the number of shots can be increased."

Ikegami says that he was unconvinced that mirrorless cameras would be able to compete with the number of photos per battery that DSLRs could manage, saying that the 500 photos a mirrorless camera could capture did not look favorable compared to a DSLR's 1000 shots.

"I was wondering if it would be accepted by… professionals and high amateurs," he says.

Nikon says that its latest round of restructuring, including moving camera production out of Japan, is expected to reduce operating costs by 59% for the fiscal year ending in March of 2022.

However, as Toyo Keizai writes, it is not enough to reduce operating cost: Nikon must also turn sales around.
Now the question is if Nikon can suddenly find a way to become profitable. I guess they will still stay in the camera for the next couple of years…but I don't think they can be a serious challenger for Sony and Canon yet…