Visit Fontaines FLICKR page to check out some image samples!
P.S.: A first Lens is in auction on eBay (Hong Kong)

Please don't do that! :)
Sony Alpha A390 Digital SLR Review at ePhotozine.
Still two NEX cameras in the Japan top10 of the wekly most sold system cameras (BCNranking)
Is the Sony E-Mount a Modded K-Mount?(RiceHigh)
Sony Alpha A450 Review on Trustedreviews
Sony NEX-5 vs Panasonic G2 (Dkamera.de)

As we all know Sony will announce new DSLR cameras soon. So may it is not casual to see a huge price drop (-$50!!!) on the Sony A550 kit: Sony Alpha 550 with 18-55mm Lens now $697.59 only (click here)
.
Sony NEX5 vs Samsung NX10 (via: Fotoactualidad)
Sony NEX-5 with 1440-7200mm Zoom Lens (Sonyalphanex)
Ascii tested the Alpha to E-mount adapter (google english translation)
Sony NEX-5 tested at Trustedreviews
Sony NEX-VG10 vs Canon 7D (Zol.com.cn / google english translation)
Voigtländer 35mm 1.4 Nokton mounted to Sony NEX-5 (Dpreview forum)
P:S.: You can now preorder the NEX-VG10 at Amazon.com (click here)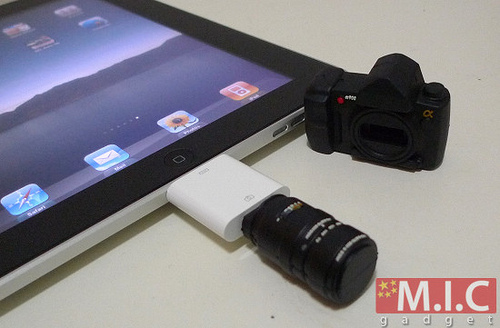 I don't know if you will get excited about that new product more than you will get excited about the next Sony pellix cameras :)
Source: http://micgadget.com/7006/sony-alpha-900-usb-flash-drive-can-store-plenty-of-raw-images/
And now it is official! Sony will announce the new DSLR on August 24! They also say that those are "never-before-seen Sony SLR's"!!! And since November 2009 SonyAlphaRumors is telling you that those are the new translucent cameras. The semi transparent pellicle allows to have Phase detection during video recording. You can alos move up the transparent mirror (if you don't want to have the little light loss when using the mirror). Very fast 10fps (frames per second).
UPDATE: We now know the original source of the teaser leak: http://www.electronista.com/articles/10/08/12/sony.to.have.new.alphas.in.two.weeks/
For our readers:Be sure to not miss any news and rumors, connect on Facebook, Twitter and follow our RSS-feed! We have currently 759 friends on facebook…let's get close to the 1.000…invite your Alpha friends! ;)
If you want to support us read here: https://www.sonyalpharumors.com/how-to-support-sonyalpharumors/
For our sources: Use the right contact form (Click on "SHARE" to anonymously send us rumors and images). It doesn't store you IP-address and you can avoid to give me your name and email. Try to use some kind of fake name so that I can recognize you in future. You can also contact me at sonyalpharumors@gmail.com
Reminder (SR = Sonyrumor):
SR1=probably fake rumor
SR2=rumor from unkown sources
SR3=50% chance it is correct
SR4=rumor from known sources
SR5=almost certainly correct!
Prime time crew has intercepted an email from a local camera shop regarding training on three new digital slr's. At least one of these is a pellicle mirror camera. Numerous people within the company have seen and handled it. The training starts on Tuesday August 31. The email also says that the new cameras will be introduced on August 22nd (but we from SonyAlphaRumors do not know if that is a public event or just a private introduction for dealers).
Thanks Primetimecrew!