Pergear 25mm f/1.8 E-mount reviews by Opticallimits and SonyAlphablog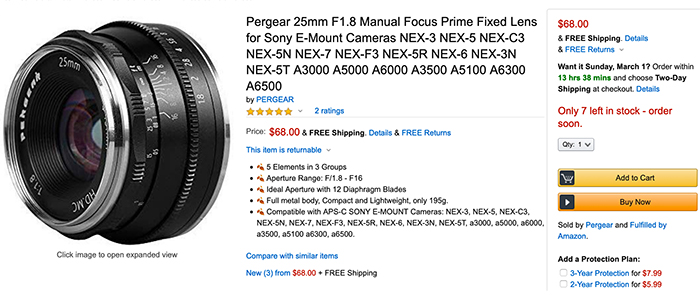 I never heard before of this Pergear 25mm f/1.8 APS-C E-mount lens you can find on Amazon US, Amazon DE, Amazon UK. And it looks like that this lens is a decent option considered the very low price:
Opticallimits writes:
The native Sony lens most comparable to the Pergear is the Sony FE 28mm f/2 … at 6-7x the price. So if you like to experiment or do crazy things with your camera/lens, the Pergear is certainly a good candidate for taking the beating without you starting to sweat about the costs. If you desire perfection, you will have to look elsewhere but that can't come as a surprise really.
SonyAlpha.Blog writes:
The Pergear 28mm F1.8 (85 euros) is a surprisingly good lens vs the competition ( Meike 25mm F1.8 & 7Artisans 25mm F1.8 – manual lenses)
On a Sony APC camera , the centre is excellent even wide open , and the lens score well on most criteria, the only weakness being its corners , you will need to use F8 for best results in Landscape (the Meike is better for the corners performance)