Personal request: How can I improve the shot of her eyes?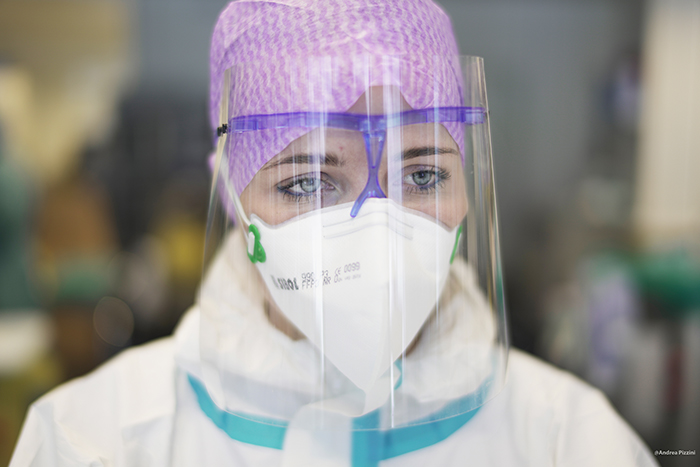 It's now exactly two months that I am shooting within the COVID-19 unit in Bolzano (Italy). I am doing a documentary so photography is more of a free side job. The image on top show you a 25 year old nurse working 12h a day. She is wearing make up because she wants to be beautiful for the patients, to cheer them up during their fight for life. I took the image with the Sony A7rIV and the Voigtlander 40mm f/1.2 FE lens.
I want to improve the quality of the picture and pronounce her eyes even further. So please comment this post with your suggestions and maybe some image samples I can learn from. Consider two scenarios:
I want to re-shoot here eyes at work inside the COVID-19 with face mask on. Which means, issues with reflection, no flash light, and no other lights I can carry inside
Make a proper shooting outside the COVID-19 center (where I can use all possible tools)
If you want to try to improve the image you see on top feel free to download the full size file here and give your best :)
Thanks!
P.S.: I plan to post all my photos in future on my private pages Instagram, Facebook, Flickr and 500px. Follow those if you want to learn more about my private projects. Thanks!
P.S.: