Phottix Odin II TTL Flash Trigger for Sony announced (ships in April)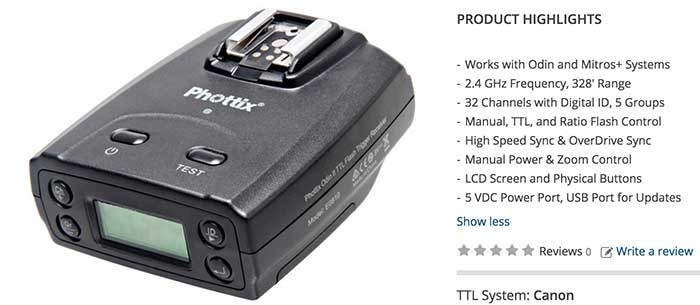 Phottiz announced the new Odin II TTL Flash Trigger. The Sony version will be available in April (Now only Canon/Nikon versions are available for preorder). Here is the full press text:
Introducing the Phottix Odin II TTL Flash Trigger
Phottix adds cutting edge functionality and features to its flagship trigger
Eagerly anticipated by thousands of Odin customers, the Odin II is the result of requests from Professional Photographers demanding more from their TTL flash systems.  Phottix is delivering on its promises to provide the very best system available today.
Unrivalled Control and Streamlined User Interface
The Odin II allows more control than ever before.  The controls are logical, simple to use, and allow extremely fast adjustments.
With five groups, A, B, C, D and E, the dedicated quick access buttons allow changes to be made by simply turning the new thumb wheel which is perfectly placed below the improved large LCD screen to adjust the compensation.  The backlit LCD panel shows the settings at a glance.  Now you can control five channels or groups of lights at the touch of a button, in TTL Mode or in a combination of full manual mode and TTL – the choice is yours.  When switching a group off, its display line disappears from the screen, showing just the groups remaining active.
Backward Compatibility
The Odin II system is compatible with the original Odin system, Phottix Mitros+ Speedlights, the award-winning Indra360 and Indra500 TTL Studio lights, Strato and Strato II receivers, and Atlas II in receiver mode.  Using channels 1 to 4 you can work with the kit you already own with the Phottix Odin II.
More Channels and Digital ID
To take advantage of the Phottix Odin II, a total of 32 channels can be used, channels 5 to 32 use the full functionality of the Odin II receiver, including a user-set digital ID for the ultimate in secure triggering.  Users can remotely control Speedlight zoom settings, providing the perfect coverage from a wide angle to a spot light.  When shooting with the Phottix Indra360/500 series, the Odin II transmitter also offers remote modelling light control and full light ratio controls.
High Speed Sync and Overdrive Sync
High Speed Sync with TTL flashes and Overdrive Sync with manual enable flash photography at up to 1/8000 second for creative photographers.  The newly added AF assist light makes autofocus a breeze in dimly lit locations.  An additional ten custom functions allow users to customise the Odin II, including switching on/off the audible beep, screen brightness, an AF Illuminator function and the ODS system control functionality, as well as a full factory reset should you need it.
Firmware Updates
Firmware upgrades for the Phottix Mitros+ and Phottix Indra360/500 will soon be available to take advantage of the new features of the Odin II – these will be announced shortly via the Phottix Journal and on the Phottix.com website.
Major Features 
5 groups A, B, C, D and E
32 channels with user-set Digital ID on channels 5 to 32
Group buttons and thumbwheel control for fast operation
TTL Power Control +/- 3EV
Manual Power Control 1/1 to 1/128th
High Speed Sync – up to 1/8000s on compatible cameras
Second Curtain Sync (Nikon and Sony only)
AF Assist Light
Flash zoom control
Modelling Light Control with Indra500/360
2.4 GHz, Range up to 100 metres
Compatible with Indra500/360 TTL, Mitros+, Odin, Strato, Strato II and Atlas II
Always up to date via the latest Firmware.
Odin II for Nikon and Canon will be available from all Platinum Dealers week commencing 15th of February 2016, the Sony Odin II is expected to arrive in late April.