Pixel Shift A7rIII tests by Hugh Brownstone, Kevin Raber and Eddy Hagen.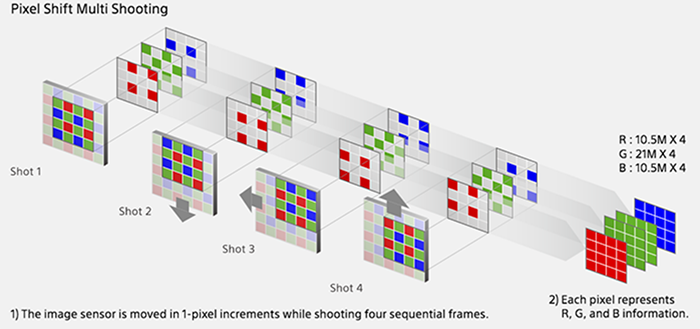 Kevin Raber from Luminous Landscape tested the new A7rIII Pixel Shift function:
I did a lot of pixel peeping at 200% and 300%, doing side by sides in Photoshop. You can see differences when looking close. These become evident in highlight and specular areas as well as parts of an image with fine detail. There is less stair-stepping and other artifacts, which results in a cleaner file. So, while it may still be the same size as the original file, the resulting file has more perceived detail. I see this in areas of texture, such as the metal on the engine in the above samples or on the Chevy logo on the red truck.
Eddy Hagen also made a Pixel Shift test:
You could say that – at least in some situations – you get four times as much information, so comparable to a 168-megapixel Bayer-sensor. But you could also say that now that we've ditched the AA-filter and circumvented the mosaicing, we are – finally – getting the full resolution of the sensor, in the case of the A7R III: 42 megapixels…
Hugh Brownstone says the A7rIII is the best "medium format" camera of the year. It means it kills the reasons why people usually bought Medium Format cameras:
Preorders:
Sony A7rIII at Amazon, Bhphoto, Adorama, BuyDig, FocusCamera, Calumet DE, Wex UK. Photo Porst Neuwied. Sony Netherland. Sony Australia. Sony Japan.
Sony 24-105mm at Amazon, Bhphoto, Adorama, BuyDig, FocusCamera, Amazon DE, Calumet DE, Wex UK.
Join the A7rIII facebook group to discuss the camera features and tests!