Sony A7III scores 96 points at DxOmark (very close to the A7rIII)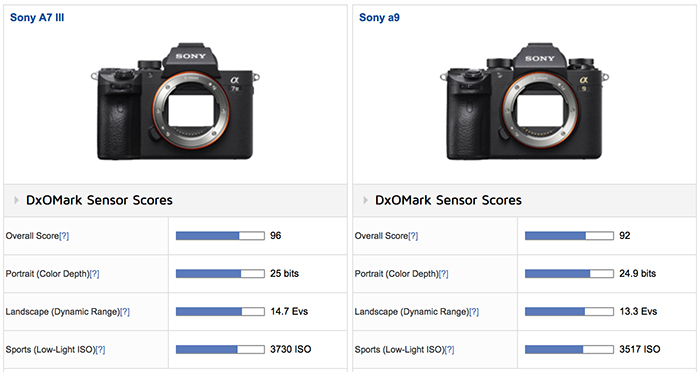 DxOmark published the full Sony A7III sensor test. The Sony A7III nicely places itself between the A9 and A7rIII. This is a top result for a camera that costs a lot less than both the A7rIII and A9. DxO writes:
Sitting between the Sony a S and R models, the sensor in the A7 was always a balance between resolution and sensitivity, but that's no longer the case. On sensor performance alone, particularly with regard to low light / high ISO sensitivity, the Sony A7 III is ahead of the A7S II and comes very close to the overall image quality potential of the A7 RIII. What was once a showcase model for some interesting camera tech, the A7 III can now add cutting-edge low-light sensor performance to the mix. That may change when Sony releases the A7S III, but in the meantime, priced at around $2,000, it's not asking for the earth in return.
Sony A7III preorder links:
Sony A7III in USA at Adorama, BHphoto, Amazon,  BestBuy, FocusCamera, BuyDig.
Sony a7III in Europe at Amazon DE, Calumet Germany, Amazon UK, ParkCameras UK, WexUK, Amazon FR, Amazon IT, Amazon ES.
Join our Sony A7III Facebook group!