RUMOR: Sony A7sIII has new 12MP sensor and unlike the Canon EOS-R5 it will be "unlimited" in recording capabilities!

First of all I can now confirm that obviously the new camera will be named Sony A7sIII. Some speculated it might have a new name or jump a generation from Sony A7II to Sony A7IV. Well it's not :)
New 12MP sensor:
It is a new 12MP sensor with fast readout. So no fancy global shutter :)
No overheating no recording time limit: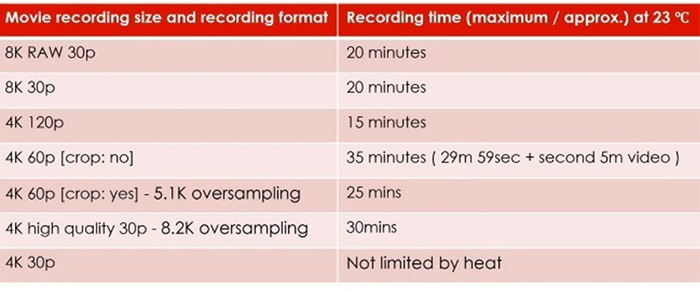 As you see from the official graph on top (thanks Jeff Ratcliffe) the Canon EOS-R5 has two kinds of limits:
Unless you shoot 4k30p: In ideal conditions which means room temperature, no hot days, no sunlight, no artificial light it will stop after 15-30min to avoid overheating.
Recording time is limited to 29m59secs in all modes anyway
The past hours three Sony A7sII successor testers made it clear the Sony A7sII successor will not have such limitations:
"A7sii successor will not have any recording time limits"
No overheating limitations and no default recording time limit of 29m59secs. So if it comes to professional video use the Sony A7sIII will surely outperform the Canon.
Rumored A7sIII specs recap

New 12MP stacked sensor with fast readout
records FHD 240fps, 4k120fps 10bit 4:2:2 and 4K120fps raw over HDMI
Looks pretty similar to a Sony A7rIV.
world's highest resolution new 9.44 million dot EVF (QXGA resolution)
new kind of passive (noise free) cooling system

no overheating, no recording time limits
UHSII card support
announcement late July
To readers: Follow us on Twitter, Facebook and Discord!
To sources: Send me your rumors at sonyalpharumors@gmail.com or use the anonymous contact form.