Sony A9 studio shots at Dpreview: Neck-and-neck with the competition (and slightly ahead in some aspects)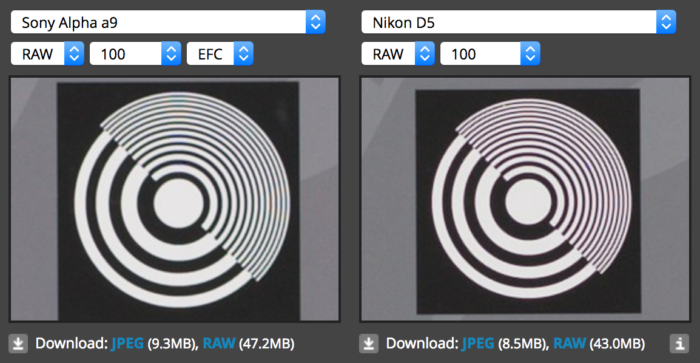 Dpreview updated their A9 review by including studio shots and a few more findings:
Dynamic Range:
The A9 is at least a stop behind that of the a7R II. A more relevant comparison might be to the a9's direct peers: it performs neck-and-neck with the Canon 1D X II (and perhaps a bit better at ISOs above 640 thanks to its dual-gain design), and a full stop better than the Nikon D5 at base ISO. For most sports photographers this won't matter much, but those shooting high contrast scenes may require workarounds other cameras – such as the a7R II – don't.

ISO performance:
Above ISO 640, the camera is fairly ISO-invariant, since it's overcome most of its downstream read noise, but there's still some benefit to increasing ISO to keep noise levels low if your scene demands it. Below ISO 640, the lower conversion gain means that you'll start to see more (read) noise if you push shadows as opposed to having them pushed in-camera by increasing ISO gain.

RAW performance:
Although at first glance the a9 appears slightly softer than the Nikon D5 and the Canon EOS-1D X II, it appears to be showing a similar amount of detail as well as color aliasing.
Compared with the Sony a7R II, you can see that the a7R II is slightly sharper as well as being much more detailed than the a9. The a9's magnified live view doesn't help achieve perfect focus, but no number of attempts yielded results as good as the a7R II at the pixel level. This leads us to believe the a9 includes an anti-aliasing filter, which makes sense for the pro market it's targeted at.

JPEG output:
At base ISO, clever sharpening means the text sharpens up nicely compared to the Raw, without any strange artifacts, and actually appears to show more detail than the D5 in some areas. The a9 basically shows no visible noise while foregoing the 'haloing' effect of the D5's large-radius sharpening.
As the ISO values climb, both the a9 and D5 leave behind some luminance grain while all chroma noise is removed (this is also similar to the a7R II's behavior, though the a9 looks cleaner even when at normalized viewing sizes, showing a similar performance to the Canon 1D X II as well). At ISO 12800, the a9's noise reduction removes some small details in the dead leaves pattern, though it does a much better job than the Canon, and seems to be trading punches in detail retention with the D5 at ISO 6400 in other areas compared.
Just my two-cent: You have to compare apple's with apple's and orange's with orange's. The A9 is not an "A7rII with faster autofocus". It is a camera trimmed for speed and aimed for sports photographers. This means for example the A9 is aimed to give the best results at mid ISO (Sports photographer do need fast shutter speeds). If you compare the A9 with the more expensive competition Sony seems to have done an excellent work in terms of Image Quality and Autofocus performance.
That said we still have to understand if banding and overheating are two real issues or something that easily can be fixed with proper settings or via future Sony firmware upgrade. I can already tell you that I heard from reliable source that Sony is checking into this, and it seems like we can get some good news very soon… ;)
Sony A9:
Sony A9 at BHphoto, Adorama, Amazon, BestBuy. FocusCamera. Calumet.de. Park UK. Wex UK. Jessops.
Sony A9 with Grip Extension Kit at BHphoto, Adorama and Amazon.
Sony A9 battery grip at Adorama, Bhphoto, Amazon. Wex UK. Jessops.
Sony A9 Glass screen protector at Adorama, BHphoto, Amazon.
NP-FZ100 battery for the A9 at Adorama, BHphoto, Amazon. Jessops.
GP-EX1 grip at Adorama, BHphoto, Amazon. Wex UK.
FDA-EP18 eye cup at Adorama, BHphoto.
MQZ1 multi battery charger at Adorama, BHphoto, Amazon. Wex UK.
BCQZ1 Z-series Battery Charger at Adorama, BHphoto, Amazon.
The new Sony FE lenses preorders:
16-35mm GM at Bhphoto, Adorama, BestBuy, Focus and Amazon. In EU at Calumet DE, WexUK, Jessops.
12-24mm G at Bhphoto, Adorama, BestBuy, Focus and Amazon. In EU at Calumet DE, WexUK, Jessops.
Sony 100-400mm GM at BHphoto, Amazon, Adorama, BestBuy. Calumet.de. Park UK. Wex UK. Jessops.