Sony A99 in Stock (via third party) at Amazon and BH.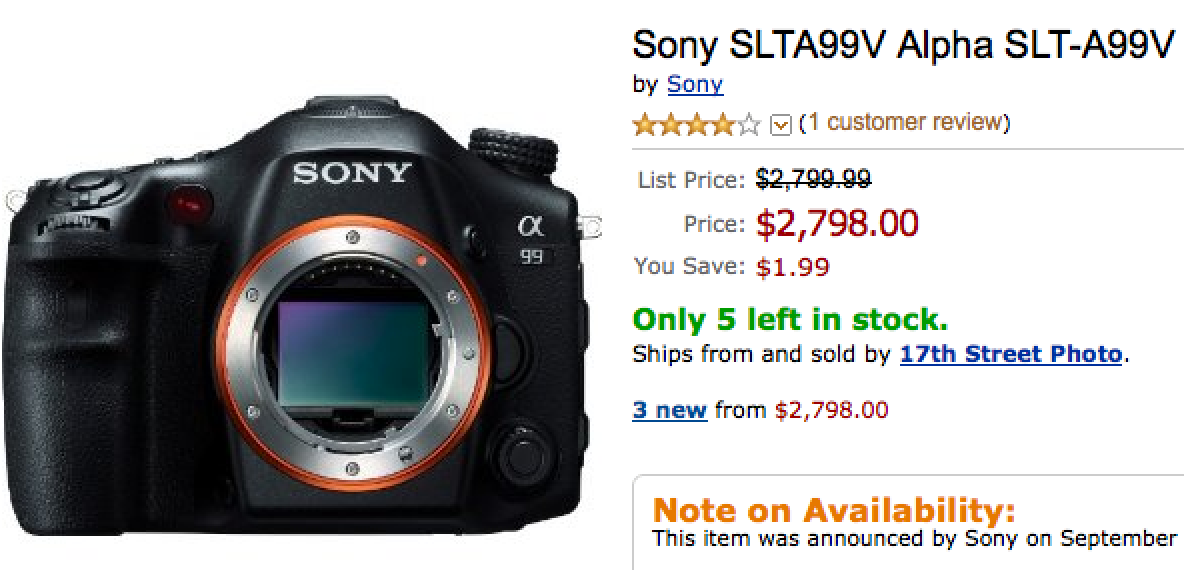 Readers keep sending me in Stock info and even some price change info (example A99 price drop in UK). But it's hard to follow the stream of the events. I kindly invite you to use the long list of links I put up on AlphaCameraDeals (Click here) where you can check a long list of Sonystores in Europe and North America. You will see thet many stores are now having the A99, NEX-6 and the VG900 in Stock!
Small deal info: The largets worldwide online stor is now selling the A99 via thirds party resellers (Click here to see it on Amazon). And of course in Stock also at BHphoto. In face of all these new models the RX100 and NEX-5n reamin the Sony most popular cameras at Amazon US (ranking here) and Amazon Germany (ranking here).
—
Some of the readers mail I received the lats few hours:
Sven: "I thought this might be interesting for Dutch & Belgian readers: the SLT-A99 is in stock at www.kamera-express.be. Including an extended warranty of 5 years, a reduction of €100 on your next Zeiss lens, a check&clean and a Carryspeed camera strap. Looks like a nice offer. https://www.facebook.com/photo.php?fbid=453809504660140&set=a.152744798099947.25221.113670518674042&type=1&theater. http://www.kamera-express.be/product/sony-slt-a99-body-incl-ke-propack/"
Sham: "I just shot my first batch of wedding photos using the a99. I am not a professional wedding photographer and I was at this wedding as a guest first and photographer second. Just thought I want to share this with you. Lenses used are the SAL70200G SSM & 24-70 Zeiss. ISO800 & ISO1600 used. The a99 really has huge amount of DR to be pushed well in post processing. Converted the RAW files to DNG to be edited in ACR 7.1. That's the only option available at the moment to process a99's RAW in ACR. We know ACR 7.1 does not natively support a99's RAW files, so probably will have to wait for ACR 7.2….http://www.flickr.com/photos/kysham/sets/72157631862262373/"
Med: "In Sony Center Norway, we recieved a99 today! Was scheduled for 29th, but we got 3 of them today :) (of 3 ordered)."