Sony aims to beat Nikon and Canon by focusing on the Full Frame market!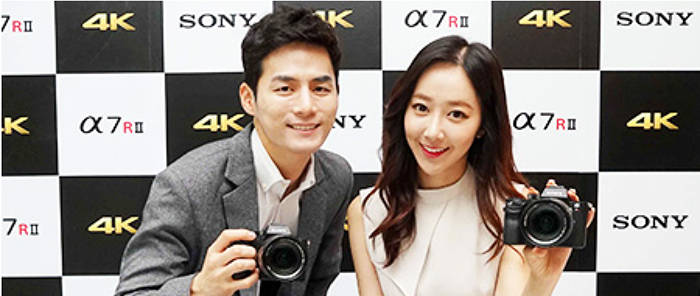 Image from the Korea A7rII event by Koreatimes
Last Monday Sony had a big A7rII event in Korea. Koreatimes interviewed Sony Korea Manager Bae Ji-hoon and he said:
Sony will concentrate on full-frame cameras in the future. In the short run, we will target existing full-frame camera users and then attract those who use entry and mid-class models to upgrade their cameras in the long run, raising the popularity of full-frame cameras. To do so, we plan to boost our presence in the professional market such as photo studios and wedding photography. Besides the stagnant growth of the camera market, the entry-class segment of the lens-interchangeable camera market is slowing down drastically.
We held a 59 percent share in the mirror-less camera market last year and have been the top seller of mirror-less cameras for the last five years, but we have never topped the gross lens-interchangeable camera market on a yearly basis. Our goal this year is to become the leader in this market for the first time.
Koreatimes writes that Sony Korea pledged to focus on the full-frame camera market. Expectations are that Sony will seek to outperform Canon and Nikon, adding another blow after its success in the high-end compact camera and entry into the mid-end mirror-less camera segment.
And here are some videos from the event:
Two videos Showing a7rII – Burst and AF-C test
https://www.youtube.com/watch?v=TAzAlw6Kg_0
https://www.youtube.com/watch?v=IvotUOQiU78
And some from Korean a7rII event ( don't understand a word)
https://www.youtube.com/watch?v=ZwhZrbZtv2c
https://www.youtube.com/watch?v=-mp0ZiN5ooM
https://www.youtube.com/watch?v=yyr3Ck1Jb68
A7rII preorder list:
In USA: at Amazon, BHphoto, Adorama, SonyStore US, FocusCamera, Uniquephoto.
In Europe at Sony DE, UK, FR, IT, ES, NL, BE, CH, AT, SE, FI, NO, PT. Wex UK.
In Asia at Digitalrev, CameraPro.
Thanks Matt!
via Dpreview.