Sony and Manfrotto announce special partnership to develop Products for Sony cameras and lenses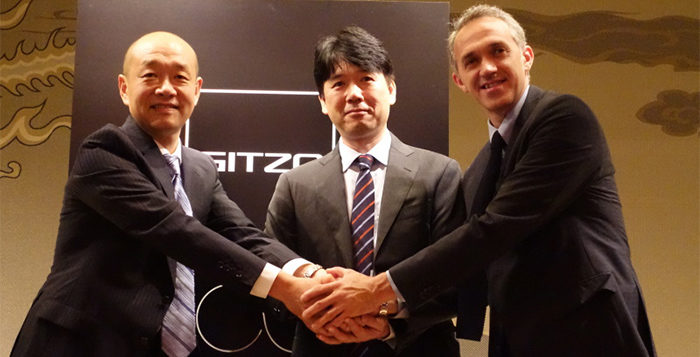 From the left: Mr. Hiroyuki Arai (Manfrotto Corporation) Kenji Tanaka (Sony Imaging Products) Marco Vidari (Manfrotto Distribution US). via DC.watch

Sony and Manfrotto announced a special agreement. Manfrotto will develop products for Sony cameras an lenses with focus on travel photographers. The first product will be a tripod and it will be shows at the Photoplus show in NYC.
Press text via Dpreview:
VITEC PHOTOGRAPHIC AND SONY ANNOUNCE COLLABORATION IN THE IMAGING MARKET
Market leaders will work together to produce a range of premium products targeted at the professional market
Tokyo, 28th September 2017 – Vitec Photographic, world leader in the photography and videography, imaging equipment and accessories industry has announced its collaboration with Sony, a leading manufacturer of audio, video, imaging, game, communications, key device and information technology products for the consumer and professional markets. This agreement will consolidate both companies position as the innovation leaders in their respective sectors. The collaboration is announced on the occasion of Gitzo 100 years anniversary event in Tokyo, which represents the perfect moment for communicating the common values of innovation and premium quality.
"We are proud to announce the agreement with Sony"– states Marco Pezzana, CEO Vitec Group Photographic Division – "This collaboration sees our brands Manfrotto and Gitzo, leaders in the market of photo and video accessories, working side by side with the prestigious Sony brand, globally renowned for product excellence and superior technology, with the primary intent of collaborating to the development of even more innovative products for professional content creators, thus further increasing customer satisfaction and future business growth."
The collaboration will begin with a brand new line of products developed for α, Sony's interchangeable lens camera, that will be launched in 2018. First to be released will be a special version of the Manfrotto Befree tripod, a world class best seller in the traveller segment and the premium lightweight companion solution for compact system camera, unveiled at PhotoPlus in New York on 26th October.
The full range will include new Manfrotto and Gitzo tripods, plates, photo and video heads that are targeted at professionals who demand outmost quality and high performance. A customized version of Digital Director will complement the new range of products that will be showcased at events and tradeshows worldwide throughout 2018.