Sony releases camera strategy for 2021: Aims to be the top brand in the overall camera market!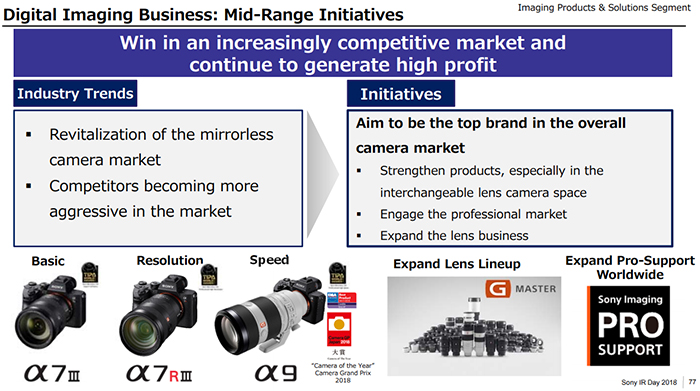 Sony released their mid-term strategy paper (sony.net/SonyInfo/IR/library/presen/irday/). And Sony's goal is to become "the top brand in the overall camera market" by 2021. It's unclear how we should define "top brand". I doubt they mean that they want to be the number one in terms of sales. Anyway, the marketing statement sounds bullish.
They clear focus is on mirrorless, lenses and the professional market.
Overall Strategy goals:
Reinforce Direct to Consumer (DTC) services and content IP, and create "Communities of Interest" that bring together people who share emotional values and experiences.
Position Branded Hardware, which allows Sony to connect users and creators through its innovative video and audio technologies, as sustainable and consistent cash flow generating businesses.
In the area of CMOS image sensors that capture the real world in which we all live, and are vital to KANDO content creation, aim to maintain Sony's global number one position in imaging applications, and become the global leader in sensing.
And in the Imaging business that's their goal:
Branded Hardware, is comprised of the Home Entertainment & Sound (HE&S), Imaging Products & Solutions (IP&S), and Mobile Communications (MC) segments that bear the Sony brand. Sony will aim to position Branded Hardware as sustainable and consistent cash-flow generating businesses that enable continued investment in the Sony Group's growth. In the last fiscal year, Branded Hardware was the driving force behind Sony's record profits, and, over the next three years, it is expected to be the business which generates the most stable cash flow. In this area, Sony will continue its policy of targeting profitability and the premium market rather than unnecessarily pursuing volume.