Sony unveils twelve Cyber-shot compact cameras. Yes twelve!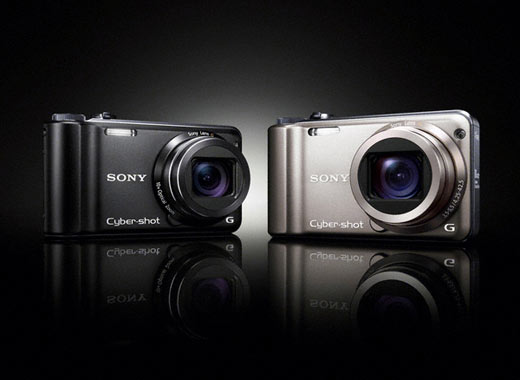 CES, Las Vegas – 7th January 2010: Incredible picture quality and great fun to use:
This season's slim, colourful new Cyber-shot cameras
* Cyber-shot HX5: Imaging innovation with Exmor R CMOS Sensor; G lens with 25mm wide angle and 10x optical zoom; Intelligent Sweep Panorama; AVCHD 1080i Full HD movie; GPS and Compass; Optical SteadyShot Active Mode; Auto HDR
* Cyber-shot W380: Compact, colourful and affordable with 14.1 effective megapixels; f/2.4 G Lens with 24mm wide angle and 5x optical zoom; Sweep Panorama; HD movie
* Cyber-shot TX7: Super-slim and stylish with Exmor R CMOS Sensor, 25mm wide angle lens, 8.9cm (3.5") TruBlack wide touchscreen; Intelligent Sweep Panorama; AVCHD 1080i Full HD movie; Optical SteadyShot Active Mode; Auto HDR
Spring's Cyber-shot line-up is bursting with advanced optical technologies and fun-to-use features that help you capture, share and enjoy a lifetime of precious moments.
A total of twelve new digital cameras from Sony make it easier than ever to grab great-looking photos that really stand out from the crowd.
Cyber-shot HX5: Compact high-zoom with AVCHD and GPS
Inside its compact, purposefully styled new body, the Cyber-shot HX5 houses an incredible wealth of cutting-edge imaging innovation by Sony.
With twice the sensitivity of conventional sensors, the advanced Exmor R CMOS Sensor assures beautifully detailed, low-noise images, even when you're shooting in low light. It's a perfect complement for the premium G Lens by Sony with powerful 10x optical zoom. Covering a generous 25-250mm range (35mm equivalent) within a compact body, the high-zoom lens is ideal for any shooting situation from wide-angle landscapes and group shots to dramatic close-ups.
Left your camcorder behind? No problem: as well as brilliant 10.1 megapixel stills, the HX5 captures smooth, brilliantly detailed Full HD video clips for easy sharing. Just touch a button and start recording crisp 1920 x 1080i video footage using the highly efficient AVCHD format. After shooting, connect Cyber-shot to your BRAVIA™ TV and enjoy the show. Alternatively, slip the camera's Memory Stick™ into the optional DVDirect MC6: you don't need a PC to burn HD footage onto a DVD to enjoy on your PS3 or Blu-ray Disc™ player.
Optical SteadyShot with new Active Mode cuts camera-shake while you're shooting handheld HD video. Providing up to 10x more shake correction than conventional cameras, Active Mode gives the clearest, steadiest handheld clips yet – even while you're walking along.
In a world first, Intelligent Sweep Panorama enhances the unique feature first introduced on last year's Cyber-shot HX1, TX1 and WX1 models. It's now easier than ever to create seamless extra-wide angle views, even with moving objects. The camera detects if people or other objects are moving in your field of view as you sweep the camera, using powerful new algorithms to compensate for any mis-matching as images are automatically stitched together.
The HX5 is also the world's first camera that integrates GPS and Compass functions to enhance your enjoyment of travel photography. Your location is displayed in real time on the large 7.6cm (3") Clear Photo LCD screen as you're shooting. When you're back home, see where geotagged images and video clips were shot as on-line maps with supplied Picture Motion Browser PC software. As an extra refinement, a new Compass function shows which direction you were pointing when the picture was taken.
Making its Cyber-shot debut, HDR (High Dynamic Range) Backlight Correction produces natural, balanced results with high contrast and strongly backlit scenes – a tough test for any camera. The HX5 automatically shoots two frames of the same scene in quick succession, with exposure values optimised for highlights and lowlights respectively. Powerful algorithms then combine the two frames, producing a single, detail-packed HDR image with bright, evenly-exposed highlights and deep shadow detail.
A brand new Portrait shooting mode takes the guesswork out of grabbing beautifully-framed self portraits when you can't see the LCD screen. Just hold the camera at arm's length and press the shutter button. Using Face Detection, Cyber-shot detects when you're framed correctly and fires the shutter automatically. There's also a 2-person setting that ensures you and a friend are both in shot before firing the shutter.
Cyber-shot W380: leading design and performance
The popular Cyber-shot W Series expands with eight slim, colourful cameras packed with smart features to help everyone take better-looking pictures.
Available in luxurious choice of black, silver, gold and red colour options, the range-leading Cyber-shot W380 showcases an incredible array of imaging innovation at a compelling price.
Sweep Panorama makes it uniquely fun and easy to capture landscapes, city skylines, group portraits and more. Just press the shutter button and sweep the camera to take in the whole scene. Sweep Panorama automatically stitches together a burst of images in moments, creating a single ultra-wide image with a huge field of view up to 185 degrees.
Even slimmer and more compact than its predecessor, it boasts a bright f/2.4 Sony G lens with 5x optical zoom and 24mm wide angle to take full advantage of the CCD sensor's 14.1 effective megapixel resolution. With an extra wide aperture, this high-quality lens opens up fresh creative possibilities, from smoothly-defocused portraits to atmospheric low-light shooting without flash.
Cyber-shot TX7: ultra-slim looks… and now with Full HD movies
When cutting-edge looks matter as much as fabulous images, the chic lines of the Cyber-shot TX7 stand out from the crowd. Exquisitely finished in a choice of three fashion colours, the slender body conceals a Carl Zeiss 4x optical zoom lens. Unusually for such a thin camera, the 25mm wide angle capability gives you freedom to pack more into each scene – from dramatic landscapes to group scenes and atmospheric portraits.
The generously-sized wide 8.9cm (3.5") touchscreen LCD and streamlined user interface makes operation beautifully simple. TruBlack screen technology minimises reflections and boosts contrast for a richly detailed view of your shots, even when you're outdoors in bright daylight.
The Cyber-shot TX7 also features Intelligent Sweep Panorama and 1080i HD video shooting – all accessed in an instant from the intuitive touchscreen.
Share the memories in a moment with PMB Portable
All new Cyber-shot models feature in-built Picture Motion Browser (PMB) Portable software. Just connect the camera via USB to any Internet-ready PC: with just a few clicks it's easy to upload pictures and video clips directly from Cyber-shot to your favourite image and video sharing sites on the web.
A slot for Memory Stick PRO Duo and SD/SDHC memory cards (sold separately) is offered on all new models to suit users' personal shooting preferences.
There's a full range of official accessories by Sony to help you get the best from your Cyber-shot. You'll never miss another shooting opportunity with the latest generation of InfoLITHIUM™ rechargeable batteries for Cyber-shot. An enhanced new design ensures super-long shooting plus rapid charging in a slim, light, space-saving profile.
The new Cyber-shot line-up of digital still cameras is available from end of January 2010:
Cyber-shot DSC-HX5
Cyber-shot DSC-W390, W380, W370, W360, W350, W330, W320, W310
Cyber-shot DSC-TX7
Cyber-shot DSC-S2100, S2000
source: http://www.dpreview.com/news/1001/10010701sonyhx5w380s2100tx7.asp