Sony Xperia press text: New Exmor T sensor has noise and dynamic range performance equivalent to a full-frame camera!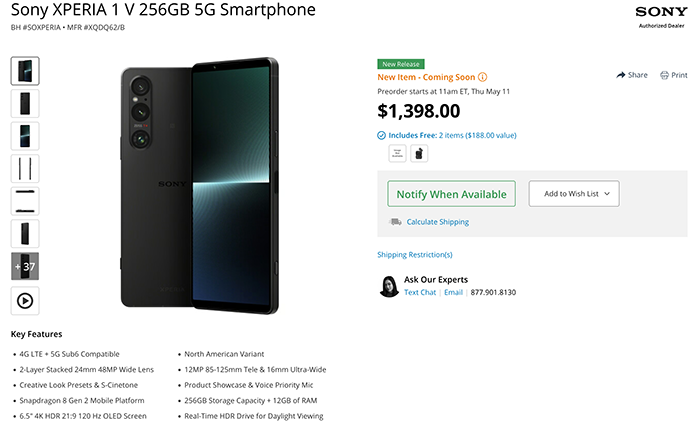 Sony announced the new Xperia 1V (preorders at Amazon and BHphoto. ).  The interesting part for us is that it uses the enow Exmor T dual layer camera sensor. And the improvements claims are quite stunning. They say the noise and dynamic range performance equivalent to a full-frame camera!
The full Xperia press text is available here: pressroom.pixelshift.studio/sony-electronics-launches-new-xperiar-1-v-smartphone. And this is what they write about the new sensor:
The Xperia 1 V is raising the bar with its' newly developed image sensor which depicts rich colors and textures of people, landscapes, and scenes in even dark locations. Due to the combination of the low-light performance, which is approximately double compared to the previous modelii and the high-speed multi frame overlay procession technology of the Xperia 1 V, it is possible to shoot a noise resistant photo with a wider dynamic range that is equivalent to a full-frame camera. ​ The 24mm lens on the back of the Xperia 1 V equipped with a 2-layer Transistor Pixel stacked CMOS image sensor "Exmor T for mobile" which is about 1.7 times larger than the Xperia 1 IV's image sensor. ​ In addition, the 85-125mm (F2.3-F2.8) optical zoom lens enables bright portraits with little distortion. 

-Cinetone, designed for cinematographersiii, has been adjusted and installed for mobile. Since the texture of the human skin can be beautifully expressed when shooting, it is possible to record as an impressive cinematic image as it is, without color grading. In addition, the new sensor has approximately three times of saturation signal levelii compared to the conventional sensor, and unique image quality processing suppresses noise that tends to occur in dark scenes, resulting in beautiful images with soft colors.
That sounds incredibly impressive!