(SR2) New Sony 12 Megapixel Fulll Frame global shutter sensor specs.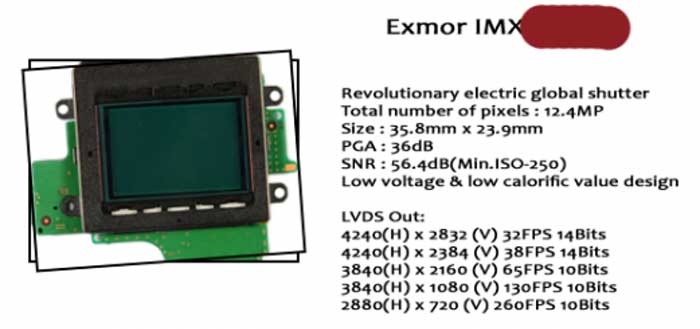 The Chinese site Cnbeta claims to have got that image of a new Sony sensor. It's a 12 megapixel Full Frame sensor with Global shutter.
While I am absolutely not sure if that's a true image I am sure Sony will make such kind of FF sensors within the next 1-2 years. Sensors with Global Shutter take a snapshot representing a single instant in time and therefore do not suffer from the motion artifacts caused by rolling shutters.
———
Message to sources: You can send me more info anonymously by using the contact form you see on the very right of your browser. You can also contact me directly at sonyalpharumors@gmail.com.
For readers: Subscribe the RSS feed (Click here) and Twitter (Click here) stream and the Facebook fan page (Click here) in order to not miss any news!
——–
Reminder (SR = Sonyrumor):
SR1=probably fake rumor
SR2=rumor from unknown sources
SR3=50% chance it is correct
SR4=rumor from known sources
SR5=almost certainly correct!