(SR3) Sony A6xxx/a7xxxx has a new backlit sensor and RGBW pixel array.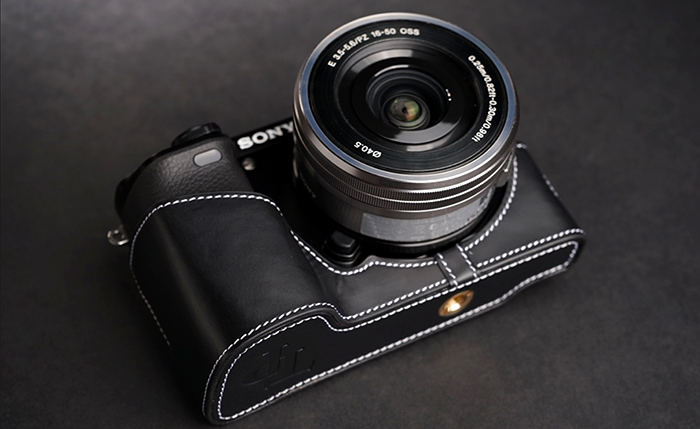 The current A6000 with [shoplink 39753 ebay]Gariz case[/shoplink].
A new source shared some more details about the soon to be announced new Sony E-mount camera.
1) Sony is preparing the next step in video quality and experience

2) This is an interchangeable lens camera with
– Best in class low light performance (backlit sensor and RGBW pixel array)
– internal 4k video recording with full sensor readout in 60fps
– extremly fast autofocus system
This would become the world's first System camera with RGBW sensor. More info about that sensor can be read via Sony.net:
The built-in "RGBW Coding" function which adds W (White) pixels to the conventional range of RGB (Red-Green-Blue) pixels has realized higher sensitivity, enabling high-quality shooting with low noise even in dark indoor or night settings. While the addition of W (White) pixels improves sensitivity, it has the problem of degrading image quality. However, Sony's own device technology and signal processing realizes superior sensitivity without hurting image quality.
This is an info that still has to be confirmed by trusted sources. But my guts tells me that new source is spot on with the info he shared!
So when will it be announced? There is the IFA in Berlin (Sept. 7) and the IBC in Amsterdam (Sony press day on Sept. 11). There will be certainly new Sony action cameras, maybe QX news too. And I hope the 4K A6xxx will be announced in one of those events too. But so far no trusted source confirmed when the camera will be announced.
To not miss any rumor quickly subscribe our social network:
RSS feed: https://www.sonyalpharumors.com/feed/
Facebook: https://www.facebook.com/sonyalpharumors
Twitter: https://twitter.com/SonyAlphaRumors
GooglePlus: https://plus.google.com/104216500156717934391/posts
[wysija_form id="1″]
If you have some "rumor" to share just send me an anonymous messages here:
at sonyalpharumors@gmail.com or use the contact form you see on the right top of this site.
Reminder (SR = Sonyrumor):
SR1=probably fake rumor
SR2=rumor from unknown sources
SR3=50% chance it is correct
SR4=rumor from known sources
SR5=almost certainly correct!