(SR4) Next Sony surprise: Sony to announce the A7II E-mount with 5 axis stabilization soon?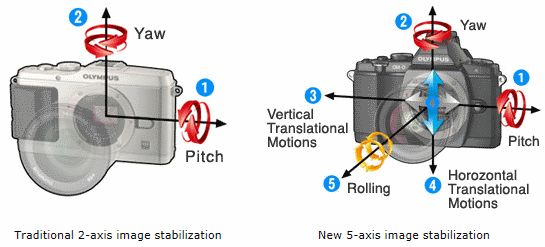 The Olympus OMD 5 axis stabilization diagram.
Well, it looks like Sony has plenty of surprises on the horizon. Digicameinfo reports that Sony will soon announce the α7II (ILCE-7M2). The "updated" A7 camera has following features:
– 5-axis in body stabilization (same as the Olympus E-M1)
– Tilting 3 inches 1.23 million dot LCD screen
– Shape and grip design are different than current A7 series.
– Comes along the new VG-C2EM vertical grip (it takes two NP-FW50 batteries)
The weird thing is that SAR sources tell there is a second(!) new PRO model coming in January/February with:
– Advanced version of the A6000 hybrid AF system
– Weather sealed and mroe high quality body
– Sony will also NOT re-use the 36MP (A7r) or 24MP (A7 and A99) sensor.

There is yet no other info about sensor specs and final release of the camera. Also to be answered is if that is just an "updated" A7 or the new rumored A9. The addition of the 5 axis stabilization is definitely a MASSIVE welcome news! I just hope Digicameinfo sources are right on this (they usually are). Stay tuned on SAR!
To not miss any of them quickly subscribe our social network:
RSS feed: https://www.sonyalpharumors.com/feed/
Facebook: https://www.facebook.com/sonyalpharumors
Twitter: https://twitter.com/SonyAlphaRumors
GooglePlus: https://plus.google.com/104216500156717934391/posts
And if you have some "rumor" to share just send me an anonymous messages here:
[contact-form-7 404 "Not Found"]
Reminder (SR = Sonyrumor):
SR1=probably fake rumor
SR2=rumor from unknown sources
SR3=50% chance it is correct
SR4=rumor from known sources
SR5=almost certainly correct!
Hot: The full Black Friday deals can be seen on at that Amazon US page (Click here to see the long list).