(SR5) RX100M3 and A7s (price) announcement on May 16 and not on May 15.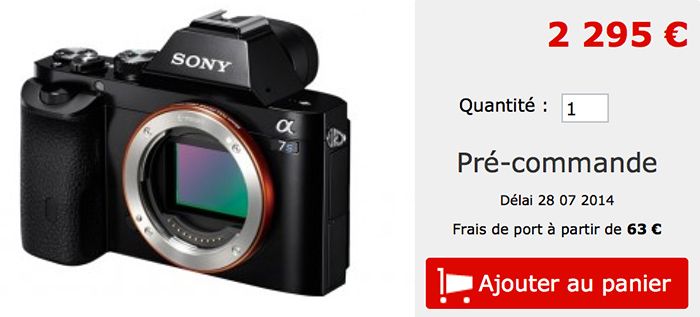 UPDATE: Sony announce the stuff today (May 16):
Sony A7s preorder in USA at Amazon US (Click here), BHphoto (Click here), SonyStore (Click here).
RX100M3 preorders in USA at Amazon (Click here), BHphoto (Click here), SonyStore (Click here).
RX100M3 preorders in Eu at Sony DE, UK, ES, FR, IT, NL, BE, AT, CH, SE, NO, FI, PT.
RX100M3 in Asia at Amazon Japan.
Sony A7s EU pages (no preorder yet): Sony DE, UK, ES, FR, IT, NL, SE, FI, PL.
————————
Like it happened with the A77II announcement there seems to be slighty changes on the exact announcement hour and date. I just have learned that unlike the previous rumor I got the RX100M3 and A7s (pricing) announcement will take place on May 16 and not tomorrow May 15.
So please spread the word. that there is a 24 hours delay. Will let you know as soon as I know the exact announcement hour although usually this kind of announcements happen at around 5-6am London time.
Note: After the May 16 announcement I will start to work more "deeply" on the Photokina rumors which means new A-mount FF cameras, new RX2, new Medium format camera rumors and the next generation E-mount cameras.
—
A7s Preorder or pure notification store links:
USA: Sony US,  Amazon and BHphoto.
Europe:  Sony DE, UK, ES, FR, IT, NL, SE, FI, PL.
Asia: Digitalrev
Reminder: You will need the Atomos Shogun at BHphoto (Click here) to grab 8bit 4:2:2 4K video.
RX100M3 specs reminder:
20MP sensor (same as RX100M2 model)
ISO 125-25600
24-70mm f/1.8-2.8 lens
Built in View finder (SVGA OLED Tru-Finder 1440k dots)
Tiltable screen (180 degrees up)
Record in XAVC S format (Same format of the Sony A7s but with no 4K output option).
Almost same size and weight as the current RX100/M2 models.
I have been told all other specs are the same of the current RX100II model.
Price is said to be around 800-850 Euro in Europe. Should be around $800-850 in USA (US price is my guess)
———
Message to sources: You can send me more info anonymously by using the contact form you see on the very right of your browser. You can also contact me directly at sonyalpharumors@gmail.com.
For readers: Subscribe the RSS feed (Click here) and Twitter (Click here) stream and the Facebook fan page (Click here) in order to not miss any news!
——–
Reminder (SR = Sonyrumor):
SR1=probably fake rumor
SR2=rumor from unknown sources
SR3=50% chance it is correct
SR4=rumor from known sources
SR5=almost certainly correct!