(SR4) Sony will soon announce a new 100-400mm G FE lens!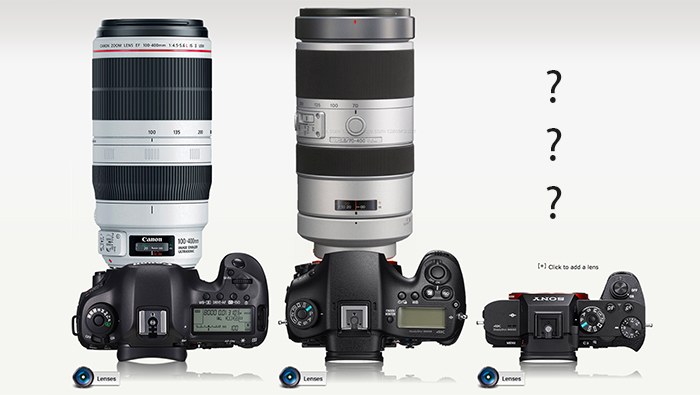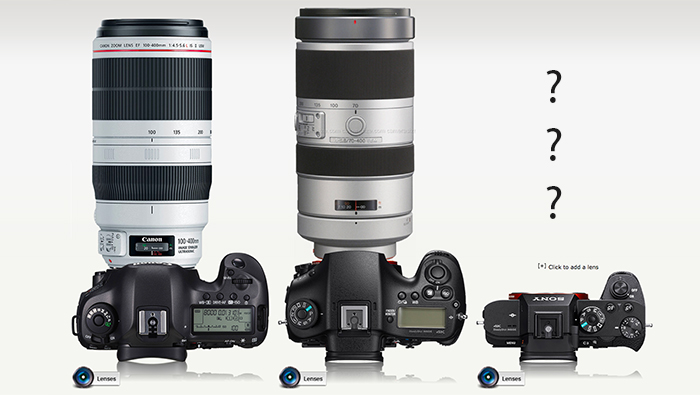 Canon 100-400mm vs Sony 70-400mm f/4-5.6 A-mount (via CameraSize)
Our rumors about the budget 85mm FE lens (rumor here) and the 100mm STF lens (rumor here) turned out to be correct. And the same source shared a new lens info today:
I heard from source that Sony is developing FE100-400G.
If development is in time, it will be announced with a new camera in April.
I have little doubt the source will be spot on this info too! I hope to get some confirmation soon to upgrade the rumor to SR5. The source didn't share info about the aperture, size and possible pricing of the lens.
Lens Price Speculation
My guess is that the size will be around the same as the competition but the price may be a bit higher…
Sony 70-400mm f/4-5.6 A-mount at [shopcountry 56396].
Canon EF 100-400mm f/4.5-5.6L IS II USM Lens costs around 2000 Dollar/Euro at [shopcountry 56389].
While the new Sigma 100-400mm f/5-6.3 DG OS HSM Contemporary Lens still got no pricing yet… [shopcountry 56390].
The camera info
We still are not sure if the new camera will be the A7III or the long time rumored new High End E-mount camera (A9?) with 20fps, low resolution sensor and super fast AF. If you plan to get the A9 join our special facebook group here.
Anyway, stay tuned. I hope the trusted sources will share more info soon…thanks ;)
–
To not miss any rumor quickly subscribe our social network:
RSS feed: http://www.sonyalpharumors.com/feed/
Facebook: https://www.facebook.com/sonyalpharumors
Twitter: https://twitter.com/SonyAlphaRumors
If you have some "rumor" to share just send me an anonymous messages here:
at sonyalpharumors@gmail.com or use the contact form you see on the right top of this site.
Reminder (SR = Sonyrumor):
SR1=probably fake rumor
SR2=rumor from unknown sources
SR3=50% chance it is correct
SR4=rumor from known sources
SR5=almost certainly correct!