(SR3) First Sony High End E-mount camera "spotting report"?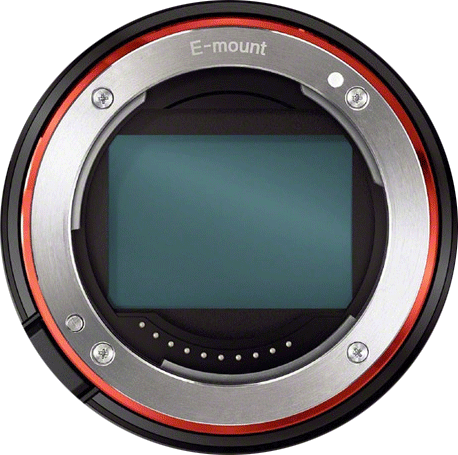 The following info is from a source who shared a rumor for the first time. So take it with a grain of salt. But I for sure hope he is right on this one! He told me he had the chance to see the new Sony High End E-mount camera. And this is his description:
It is not gonna be a bigger body like canon 1dx but is definitely bigger than the current generation.
The grip is chunkier and taller than the older ones.  The screen looked bigger to me as well but still you'll have a tilting screen. No lateral hinges.

I couldn't check about the SD card but the photographer was from sand disk so i guess the still use SD card but there's place for 2 i guess. There's an interesting lever/button that look like is for open the card door. They added a nipple joystick for af points selection but the rest is pretty familiar.

I couldn't check the firmware and the final name since was masked and the software was modified.
The photographer was shooting on the real cam and the burst rate was quite impressive. I guess around 14fps or more by the sound.

I shoot on the 16-35 2.8 but for the other scenes they where using the new 100-400 even tho was all masked with tape to not show.
Size wise the 2 lens are comparable to the competition so i wouldn't expect the zoom to be faster.

The 16-35 is pretty heavy in the hand but in line with the 24-70
To sum up what he says is:
The camera is a bit bigger and has a chunkier grip
Joystick control (hurray!)
Impressive burst rate (probably around 20fps)
16-35mm f/2.8 GM and 100-400mm FE lens are coming too
This matches the rumor we posted via our usual trusted sources: This is a High End Camera made for PROS with low resolution sensor, around 20fps, dual SD card and priced above the current A7 series. There is also a rumor about a second High End Model with High Resolution sensor. But that camera will be announced sometimes later (maybe 2018?).
Don't forget to join our Sony A9 facebook group! Although we don't know yet for sure if the camera will be named A9 :)
–
To not miss any rumor quickly subscribe our social network:
RSS feed: https://www.sonyalpharumors.com/feed/
Facebook: https://www.facebook.com/sonyalpharumors
Twitter: https://twitter.com/SonyAlphaRumors
If you have some "rumor" to share just send me an anonymous messages here:
at sonyalpharumors@gmail.com or use the contact form you see on the right top of this site.