(SR5) A99 price range set between $2,500 and $3,000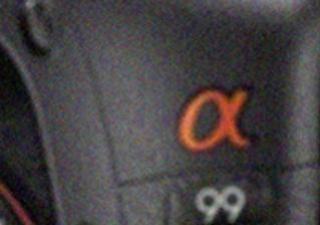 One of the (almost certainly fake) images floating around the chinese forums.
A couple of sources told me that Sony set the price range of the A99 camera between $2,500 and $3,000. The final price will be set this summer but it will be definitely be within that range! Also the name (A99) should be confirmed this Summer.This means the camera is certainly cheaper than the $3.499 Canon 5DmarkIII (here are the specs) and the $2,999 eploding Nikon D800 (here are the specs)……LOL :)
Specs I got from the early prototype are also unlikely to change. It means we can pretty much be sure the camera has a 24 Megapixel sensor and a 102 "super" AF system (something unmatched by today's Canon and Nikon cameras). Frame rate will be 10 or 12 fps (depending on the final testing and firmware). Its also sure that at least two new A mount lenses will arrive along the A99. One of them will be almost surely be the Zeiss 50mm f/1.2 SSM lens. I still don't know the price of the new Zeiss but I suspect it will be in the same range of the Canon 50mm f/1.2 ($1,499 here at Amazon).
Curiosity: The most expensive 50mm f/1.2 lens on market is the Leica Noctilux. $29,950.00 on [shoplink 12594 ebay]eBay (Click here to check that if you don't believe it!)[/shoplink].
Reminder: Stay tuned on SAR tomorrow (May 17th) between 6-8am London time! You can follow live on SAR the A37 and NEX-F3 announcement!!!