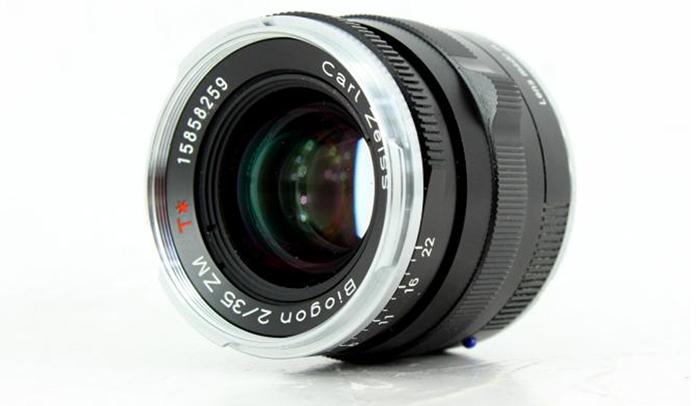 Image on top shows the current Biogon T* 2/35 ZM (here on eBay) M-mount lens. The new Loxia 35mm could be very similar to it.
I have been told the first Zeiss Loxia prime lens will be a 35mm f/2.0 and 50mm f/2.0 manual focusing lens. It will have a physical aperture ring and electronic aperture control. I have no other info about price and lens physical design characteristics.
Zeiss has a Biogon T* 2/35 ZM (here on eBay) M-mount lens in their portfolio. Maybe the new Loxia also has a Biogon design. The lens is likely to cost more than the current 1 stop slower Zeiss 35mm f/2.8 FE lens. But it will have much higher optical and material quality.
The 50mm f/2.0 makes also a little sense to me as we already have a superb 55mm f/1.8 FE. But maybe the new 50mm lens is a macro to make the difference?
The question now is…
Sorry, there are no polls available at the moment.
———
Message to sources: You can send me more info anonymously by using the contact form you see on the very right of your browser. You can also contact me directly at sonyalpharumors@gmail.com.
For readers: Subscribe the RSS feed (Click here) and Twitter (Click here) stream and the Facebook fan page (Click here) in order to not miss any news!
——–
Reminder (SR = Sonyrumor):
SR1=probably fake rumor
SR2=rumor from unknown sources
SR3=50% chance it is correct
SR4=rumor from known sources
SR5=almost certainly correct!