(SR5) New Sony FE and Zeiss FE lenses coming in mid October. (SR4) One of them is the Zeiss 21mm FE Loxia!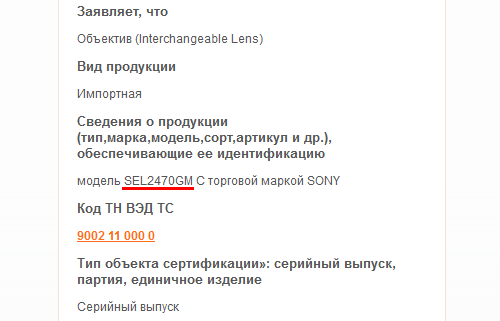 The official Sony Russia registration of a new 24-70mm FE GM lens.
First I want to apologize: Obviously the one source who said Sony would announce now 7 new lenses at the IBC show was wrong. He contacted me back and said the lenses were only discussed in private (with other photographers and bloggers) and not in public. He misunderstood the message he got from Sony.
But I have good news for the folks anyway!
I got feedback from a couple of sources who talked with Sony at the IBC show. Both Sony and Zeiss will announce new FE lenses in exactly 1 month (mid October)!
One of those lenses is rumored to be the 21mm Loxia (SR4 for now). Not sure yet if they did choose the [shoplink 9804 ebay]Biogon T* 2,8/21 ZM (jere on eBay)[/shoplink] or the
[shoplink 9804 ebay]C Biogon T* 4,5/21 ZM (here on eBay)[/shoplink] design as basis for the new lens.
Sony Russia already registered the new 24-70mm FE GM lens 30 day. So this lens is coming too. (SR4). I am still wondering what the new "FE GM" definition will be all about…
One fast prime and one telephoto FE zoom on the roadmap too (SR3)
Two updated A-mouny lenses (SR3)
Unclear what's more on the FE roadmap…
The rumor is ranked as SR5 as multiple (and not only one) confirmed the lenses will be show at PhotoPlus. So this one has a 90% chance to be true.
–
To not miss any rumor quickly subscribe our social network:
RSS feed: https://www.sonyalpharumors.com/feed/
Facebook: https://www.facebook.com/sonyalpharumors
Twitter: https://twitter.com/SonyAlphaRumors
GooglePlus: https://plus.google.com/104216500156717934391/posts
And if you have some "rumor" to share just send me an anonymous messages here:
[contact-form-7 404 "Not Found"]
Reminder (SR = Sonyrumor):
SR1=probably fake rumor
SR2=rumor from unknown sources
SR3=50% chance it is correct
SR4=rumor from known sources
SR5=almost certainly correct!