(SR5) NEX-5R and NEX-6 can be controlled in remote via Phone. NEX-6 has a 2359k dot image on viewfinder.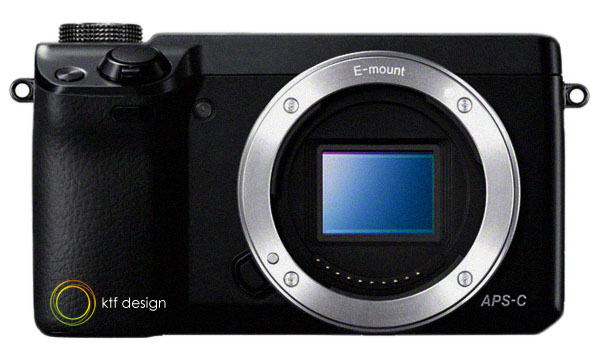 A NEX-6 rendering based on the leaked images by KTFturbo.
Remote control
The NEX-5R and NEX-6 can be controlled in remote via Phone. There should be an APP for Android phones (so for example for these Sony Xperia phones) that will give you full remote control of the NEX cameras.  I don't know yet if there will be an iPhone app too.
I also have two more news about the NEX-6:
1) the camera has a new 2359k dot image on viewfinder.
2) The Hot shoe is the same of the A99.
Announcement:
There was a bit of a confusion on the announcement date. This depends from the time zone. I know "think" the announcement will be made on August 29th in Japan. Hope to get a reliable hour soon. The NEX-5R only will be announced. The A99, NEX-6 and E-mount FF camcorder will be announced in mid September. Subscribe our RSS feed and Twitter stream and the Facebook comunity to not miss any hot news!
—-
Support: I know some guys do not like the support message. But I am putting all my free time on SAR and if you want to support costs and the time I am putting into this you can help me to earn some small commission when doing purchase through those affiliate links: [shopcountry 8450]. Once clicked on them you can purchase whatever you want I will earn a small commission through it. Of course you don't pay any penny more on the products price. Thanks!
—
Reminder (SR = Sonyrumor):
SR1=probably fake rumor
SR2=rumor from unknown sources
SR3=50% chance it is correct
SR4=rumor from known sources
SR5=almost certainly correct!