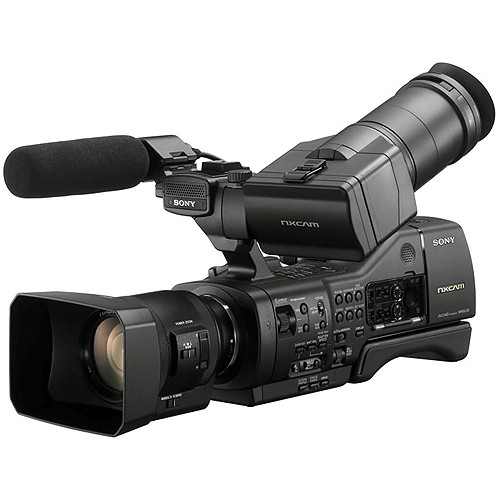 The image on top shows the just announced Sony NEX-EA50UH Camcorder with 18-200mm Servo Zoom Lens. The Full Frame NEX-VG900 costs less!
—
I know I am going to be crucifixed for posting this rumor. But I am sure that the rumor will turn out to be true within the next few weeks. So please cheaters…just have a bit of patience before to attack SAR :)
The new NEX VG-900
We just got an unexpected news via trusted sources. Until now I thought Sony is working on a High End and expensive E-mount FF camcorder only but after talking with multiple sources I can unveil this:
Sony will announce the new NEX-VG900 at around mid September. It is a Full Frame E-mount camcorder (Full Frame in photographic terms!). And it costs just a bit over 3.000 Euro! It records 1080p60 in AVCHD format (24Mbps/s). A FF camcorder for 3.xxx Euro is something almost unbelievable. Of course as usual, this alone will not make the camcorder successful. I am working to get the details of the camcorder and hope to post them soon.
E-mount FF
I repeat it again. Current E-mount lenses like the super Zeiss 24mm f/1.8 will work in crop mode only. And you will have a "special adapter" to make Alpha lenses work on the cameras. There will be no E-mount FF lenses yet. For those of you that take more about photography than stills…a "photocamera" with FF E-mount is scheduled for a 2013 release.
Reminder: There is an announcement scheduled for August 29th (NEX-5R) while the E-mount FF camcorder, the NEX-6 and the A99 will be announced two weeks later! Stay tuned on SAR, subscribe our RSS feed and Twitter stream and the Facebook comunity to not miss any hot news!
—-
Support: I know some guys do not like the support message. But I am putting all my free time on SAR and if you want to support costs and the time I am putting into this you can help me to earn some small commission when doing purchase through those affiliate links: Amazon, B&H, Adorama, eBay. Once clicked on them you can purchase whatever you want I will earn a small commission through it. Of course you don't pay any penny more on the products price. Thanks!
—
Reminder (SR = Sonyrumor):
SR1=probably fake rumor
SR2=rumor from unknown sources
SR3=50% chance it is correct
SR4=rumor from known sources
SR5=almost certainly correct!