(SR5) RX100M3 leaks out on official Sony manual!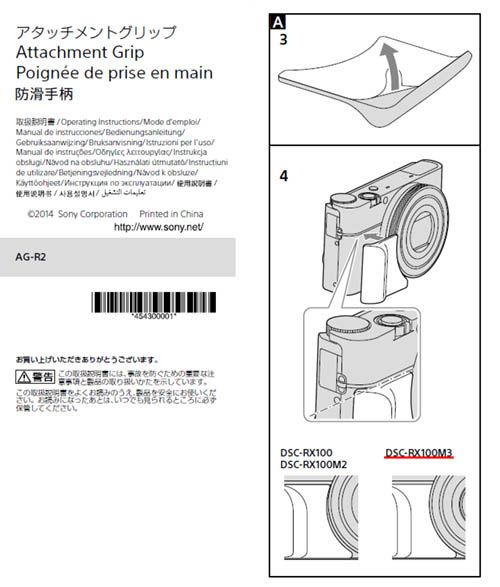 Like I told you before Sony will announce more than just the A77II on May 1 at 10am London time. One of the smaller surprises could be the new Sony RX100M3 whose name just leaked out through a Sony manual (see screenshot on top). There are no specs or info yet but I am sure we will have them soon. But if you compare the images at the bottom you will see there seems to be a difference on the lens size suggesting that there may be some changes (hopefully the patented 28-100mm f/1.8-2.8 lens!). Meantime the current RX100II has already a [shoplink 26119 ebay]$100 off on eBay US (Click here)[/shoplink].
And from what I heard there will be ore surprises. So please stay tuned on SAR the next hours and days!
via Digicameinfo.
Follow the announcement live at SonyAlphaRumors!
– 2am (02:00) San Francisco
– 5am (05:00) New York time
– 10 am (10:00) London time
– 11 am (11:00) Berlin time
– 8 pm (20:00) Tokyo time
–
How to support SonyAlphaRumors:
Just use these link to purchase whatever product you planned to purchase today: [shopcountry 8454] (Once clicked jump to every product you want).
Make a one time donation I will directly use to pay the quite expensive bandwidth you consume in those rumor days:
Thanks!
———
Message to sources: You can send me more info anonymously by using the contact form you see on the very right of your browser. You can also contact me directly at sonyalpharumors@gmail.com.
For readers: Subscribe the RSS feed (Click here) and Twitter (Click here) stream and the Facebook fan page (Click here) in order to not miss any news!
——–
Reminder (SR = Sonyrumor):
SR1=probably fake rumor
SR2=rumor from unknown sources
SR3=50% chance it is correct
SR4=rumor from known sources
SR5=almost certainly correct!