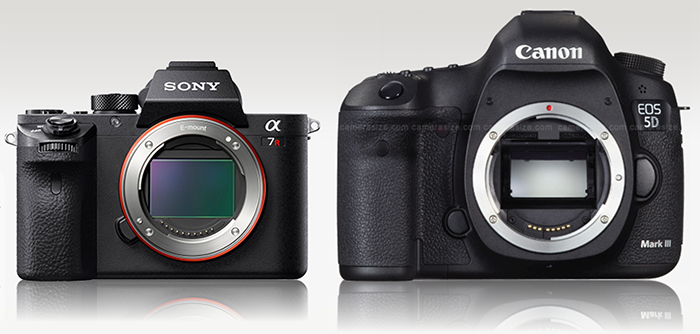 [/shoplink] [shoplink 46453 ebay]A7rII[/shoplink] vs [shoplink 46766 ebay]Canon 5DIII[/shoplink] size comparison (CameraSize).
Last week I reported that a highly trusted source confirmed Sony will launch a higher than A7 model (let's call it "A9" for now). It will have [shoplink 46602 ebay]dual XQD card slot[/shoplink] and unlimited RAW burst. The same source also added a small info about the camera size:
"The size will be bigger than [shoplink 46453 ebay]A7RII[/shoplink], but smaller than conventional DSLR, such as [shoplink 46766 ebay]5D3[/shoplink]."
The source did not tell us when the camera will be announced. As you know on Sunday at 2pm Las Vegas time Sony has a major product announcement event. But it's absolutely unclear if the Sony A9 will be announced on Sunday or much later at Photokina. I know the NAB show is for broadcasters. But Sony introduced the A7s at the NAB show two years ago. And the A9 certainly would have a lot of advanced new video features. So it's not illogical that Sony could use this event for a new A9 launch. But that said…this is all pure speculation. So don't dream too much, there may be "only" new camcorders on Sunday :)
SAR readers are welcome comment this post with their wish list for the A9 camera! And join the Sony A9 facebook group ;)
–
Stay tuned on SAR and subscribe the newsletter to get info when it matters:
[wysija_form id="1″]
To not miss any rumor quickly subscribe our social network:
RSS feed: https://www.sonyalpharumors.com/feed/
Facebook: https://www.facebook.com/sonyalpharumors
Twitter: https://twitter.com/SonyAlphaRumors
If you have some "rumor" to share just send me an anonymous messages here:
at sonyalpharumors@gmail.com or use the contact form you see on the right top of this site.
Reminder (SR = Sonyrumor):
SR1=probably fake rumor
SR2=rumor from unknown sources
SR3=50% chance it is correct
SR4=rumor from known sources
SR5=almost certainly correct!