(SR5) Sony will have a BIG E-mount event around September 18 and a press conference on September 25 too!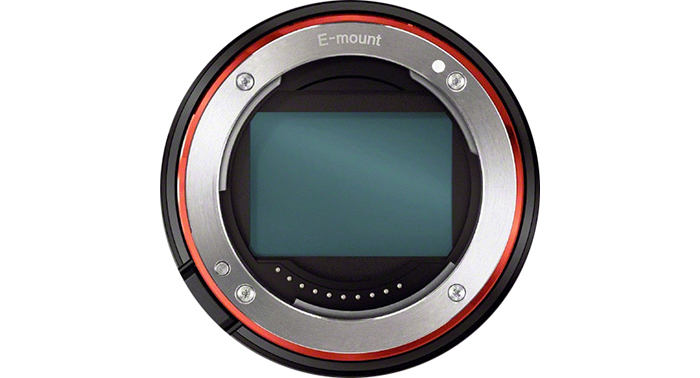 Canon and Nikon you had your time of glory. Now Sony is smelling blood…
In a surprise move YESTERDAY Sony communicated to the Photokina team that they decided at the very last moment to have a press conference on September 25 at 10am Berlin time. Today the Photokina officially updated the page and shows this: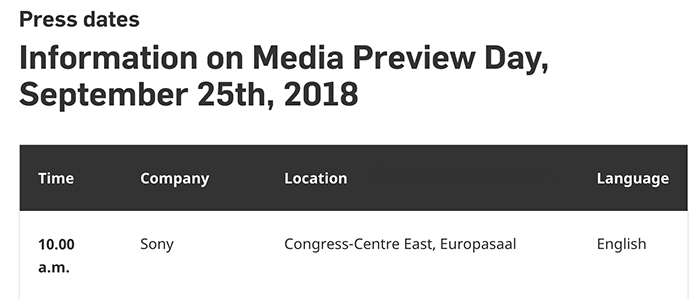 But there is more. Many journalists also contacted us to say that they just got an invitation for a major E-mount event around September 18. We have yet no 100% guarantee what's coming but I am sure this is a BIG event as it involves many days of stay on a location with new Sony gear.
I find it very interesting that they decided to make their press events in the very last-minute only. I wonder in what measure Canon and Nikon influenced their decision! To sum up we now have three(!!!) press events from Sony:
September 14 at 9.30am Berlin time: Expect a new pro camcorder. Only very small chance to get the new A7sIII tough (we will livestream the event on SAR).
September 18 (plus minus one day): Major E-mount event. Maybe for new High End APS-C E-mount camera and/or the new A7sIII?
September 25 at 10am Berlin time: Photokina press conference. Maybe they will only show the products announced on Sept 18 or maybe they have some additional gear?
Moreover we will have TWO(!!!) Zeiss events. More about that soon on SAR ;)
UPDATED: What's going to be announced by Sony? A7xxx, A7sIII and a third camera rumors…
My speculation is that they will introduce the new very high-end APS-C E-mount camera and a couple of new lenses (24mm GM, 135mm GM and a new APS-C lens). The A7sIII launch would make more sense in October to honor the exact 5 year of the first Sony A7–A7r camera launch happened in October 16 2013. One anonymous source told me the Sept 18 event will indeed give us the A7sIII with fully articulated screen and 4k60p. Let's hope he is right! It would kill the V-logging Canon EOS-R camera right from the start by giving V-Loggers real FF 4K without crop! But being this source anonymous let's wait and not fly too high with our dreams yet…
UPDATE: This is also unconfirmed…but for the first time I heard about a possible new FF E-mount camera that is NOT the A7sIII and that might be announced at Photokina…
—
Rumor summary
– High End APS-C E-mount camera to be announced at Photokina. Not an A6500 successor but a completely new kind of model! This is rumored to be a mini-Sony A9, 20fps, 4k60p, improved AF.
– The A7sIII is 90% likely to be announced within 1-2 months. 4k60p 5.6 million dot EVF, new color science, fully articulated screen
– New Zeiss fixed lens Full Frame camera with autofocus prime lens to be announced on September 27
The lens rumors:
– Sony 135mm f/1.8 GM probably to be announced at Photokina
– Sony 24m f/1.4 GM highly likely to be announced at or shortly AFTER Photokina
– Sony APS-C E-mount lens to be announced with the new E-mount camera
– Maybe new Voigtlander FE lenses coming
– Probably new 50mm f/1.4 APS-C E-mount from Sigma
– Highly Likely a new 70-200mm f/2.8 FF E-mount lens from Sigma.
– New Zeiss Batis 40mm f/2.0
—
For potential SOURCES:
If you know "something" and want to share it anonymously please use the anonymous contact form on the top right of the sidebar. Please use a nickname so that I can recognize you in future messages. You can also contact me directly at sonyalpharumors@gmail.com. Use remailer.paranoici.org to send me an anonymous message if you prefer to do so.
For READERS:
To be sure to not miss any of the upcoming news do this:
Subscribe our RSS feed (Click here).
Join us on Facebook (Click here).
Follow us on Twitter (Click here).