Tamron 70-180mm f/2.8 FE full lens specs and press text leaked. Price in Europe is 1499,00 €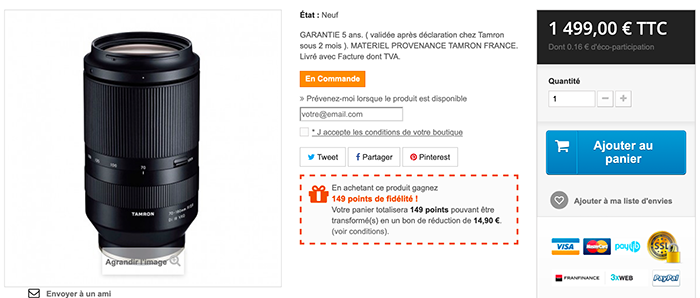 The French store PhotoUnivers has listed the full info of the new Tamron lens!
Here is the google translated text:
–
The 70-180mm f / 2.8 has a compact (149mm) and lightweight (810g) construction with a filter diameter of 67mm, identical to other FE 67mm zooms, the 17-28mm f / 2.8 and 28-75mm f / 2.8 and fixed focal lengths 20, 24 and 35mm f / 2.8. The optical construction includes several special glass elements which contribute to the high image quality of the lens. Its minimum focusing distance of only 0.85 m extends the overall versatility of the 70-180 mm. The lens benefits from the VXD (Voice-coil eXtreme-Torque Drive) autofocus motor newly developed by Tamron which produces a quieter and faster linear autofocus drive than ever. It has an all-weather construction for additional weather protection and a fluorine coating for easy maintenance.
It is fully compatible with various features specific to Sony FE such as Fast Hybrid AF and Eye AF.
FE 67 mm series: designed for hybrid
Tamron now presents a coherent and homogeneous range of 6 optics for Sony FE with a diameter of 67 mm with f / 2.8 aperture. The optics of this series are all designed and thought with the same philosophy and meet the new performance and compactness needs of hybrid photography:
– Exceptional optical quality – 100% compatibility with Sony technologies (Eye-AF, Internal corrections)
– Mobility: limited weight and size + all-weather construction
– Versatility: minimum record adjustments, etc.
Compactness and lightness
It was possible to reach 810g to make it 2x lighter than its competitors and a length of 140mm thanks to an extreme compactness even with a constant f / 2.8 aperture taking advantage of the image stabilization. camera. The filter diameter is 67 mm like the other optics in the Tamron FE range. Its ultra-compact size facilitates freehand shooting.
New AF VXD Engine Provides High-Speed, High-Precision AF Focus Performance
Tamron has developed its first linear drive focusing mechanism, called VXD (Voice-coil eXtreme-couple Drive), specially designed for 70-180 mm f / 2.8. While operating faster than ever, the drive maintains accuracy up to 0.005mm, less than a tenth the width of a human hair. A floating system uses two high speed and high precision VXD units. This innovative design produces sharp images on near and far subjects. Discreet, it allows silent shooting in all circumstances. Athletes and moving vehicles are among the subjects commonly photographed with this type of telephoto lens. It provides users with a silent and high-precision shooting experience, not only for still images but also for videos.
Uncompromising image quality
The 70-180mm f / 2.8 has an optical construction of 19 elements divided into 14 groups. It includes a total of six XLD (eXtra Low Dispersion) and LD (Low Dispersion) lens elements combined, and three GM (Glass Molded Aspherical) and hybrid aspherical elements combined. The special lenses are optimally arranged to correct chromatic aberration and maintain very high resolution performance from edge to edge. This model also benefits from the BBAR-G2 coating (Broad-Band Anti-Reflection Generation 2), which minimizes ghost images and reflections and produces breathtaking and clear images with fine details. In addition, excellent image quality over the entire zoom range is ensured by the camera's distortion correction. Finally, the bokeh effect obtained at the f / 2.8 aperture offers a beautifully smooth transition from the subject to the background.
A record minimum focus of 0.85 m
The new 70-180mm f / 2.8 lens has a record minimum focus of 0.85m over the entire focal range. This short focusing distance opens up new perspectives for telephoto shooting with a maximum magnification ratio of 1: 4.6 to 180mm. At 70mm, it is also possible to take pictures from a distance of 0.27m when the manual focus (MF) is set on the camera. However, the results are less optimal.
Moisture resistant construction, fluorine coating and zoom lock
Seals are located in the lens assembly areas and other critical locations to prevent the ingress of moisture and / or raindrops and allow for a moisture resistant construction. This function provides an additional layer of protection when shooting outdoors in adverse weather conditions. In addition, the surface of the front lens is covered with a protective fluorine compound which has excellent water and oil-repellent qualities. The lens surface is easier to clean and is less vulnerable to the damaging effects of dirt, moisture or fingerprints, making maintenance much easier. Also, the Zoom Lock switch prevents unwanted extension of the barrel of the lens during transport.
Compatible with the main characteristics and functions specific to Sony hybrid cameras
Tamron's new 70-180mm f / 2.8 is compatible with many advanced features specific to Sony hybrid cameras:
– Fast Hybrid AF
– Eye AF
– Direct Manual Focus (DMF)
– Internal correction of the case (shading, chromatic aberrations, distortion)
– Firmware update via the box
(Features vary by case. Please refer to your camera's instruction manual for details.)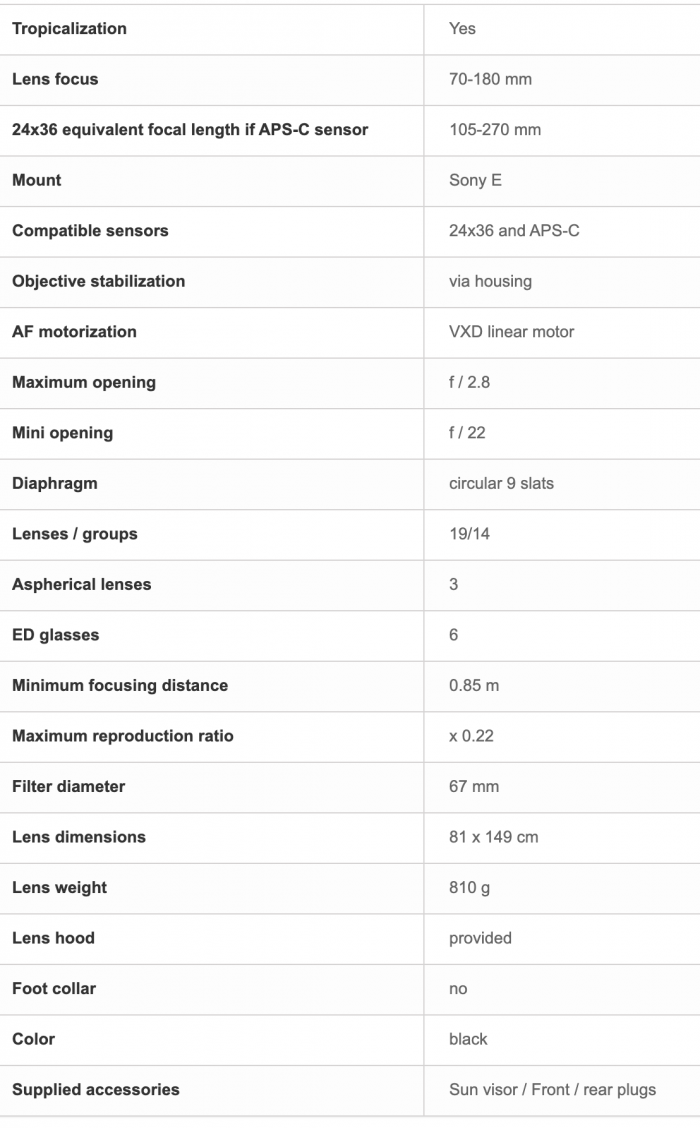 In Japan the retail price of the Tamron "70-180mm F / 2.8 Di III VXD" seems to be 137,500 yen including tax. The scheduled release date is April 23, 2020. 
via Nokishita