The source of the correct Sony A1 specs also shared the A7IV specs and two more camera info :)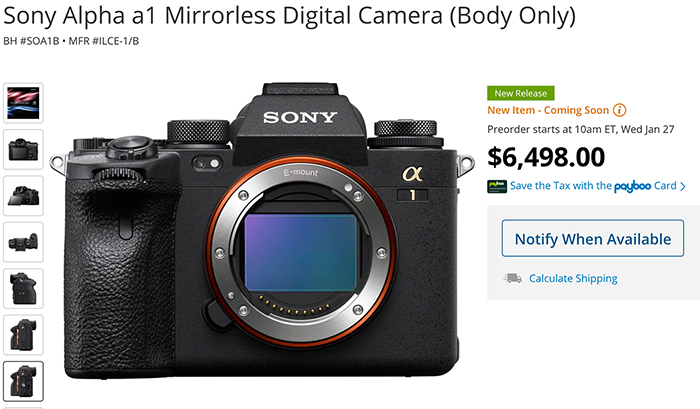 Sony A1 Preorders:
Sony A1 at BHphoto. Adorama. Amazon. Focuscamera.
Sony XPeria 5G PRO at BHphoto. Adorama. Amazon.
Sony A1 in Europe at FotoErhardt DE. Calumet DE. Fotokoch DE. Park UK. WexUK.
Sony A1:
Join the Sony A1 Facebook group here.
Sony A7IV, RX and one more camera!
Back on on September 24 a source shared to me the correct Sony A1 specs (here is the article). So now that we know he is right I can also confirm that his Sony A7V specs below might be right too. Moreover he confirmed the rumored Sony RX is indeed coming too and also another third camera….more about that soon on SAR!
Sony A7IV specs:
A74 will have a new sensor with faster readout and will not recycle the 24 MP one. My source told me it will be in the 30-32 MP region
The EVF will have 3,69 Mdots and not 5,76 Mdots
Most probably the LCD will also be on the cheap side but the image quality and AF will be top notch
The video will certainly be 4K 60p and will feature the new menus.
The price will be in the $2499 region
Private note…burnout :(
Back in November a good friend of mine that works as a nurse in a COVID-19 unit was personally attacked on social media by negationists saying she was only acting as there was a pandemic. To help her I decided to make a short story about her. My intention was only to go at her workplace 1-2 times. But once I started people asked me to stay longer to tell their stories. I live in the middle of nowhere in the alps and no photographer or journalist never went inside their ICU station to follow their work. Since November 30 I am there 2-3 times a week. Moreover I use a lot of time to edit short movies and pictures. This is burning me out :(
The intention of my work is simple: I am not here to talk about that damn Corona or to discuss if the political and health measures are right or wrong. I am only there to talk about the people working as "Wavebreakers" inside the ICU station…to defend what should be really a common ground for society: The respect for health care workers.
This is also why the last days were a bit messy with rumors. I was in the ICU all time and working from there. So apology for the hiccups. I have a ton of videos and photos and only started very recently to tease some of these on my website andreapizzini.com, on my Instagram channel, Flickr and 500px. Feel free to follow me there!
I hope this struggle with the pandemic will get better soon (thanks to vaccines) and I can have back more time for SAR!