Zeiss confirms E-mount shorter flange distance brings advantages over DSLR lenses.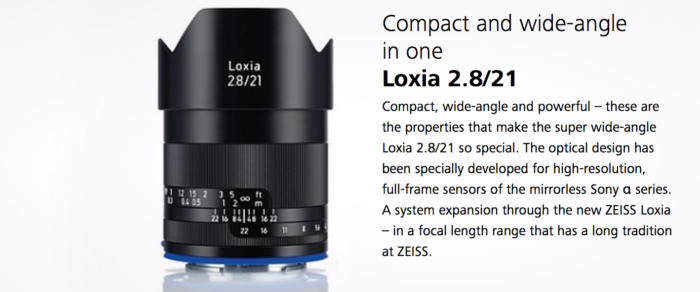 [/shoplink]
Weeks ago Fuji photographer Sator claimed that E-mount has an inherent faulty design that makes it impossible to design lenses that are smaller than DSLR lenses.
Mike asked Zeiss about the E-mount flange distance influence on the lens design. And this is the official Zeiss answer:
Dear Mike!
We have an answer for you now: because of the shorter flange focal distance of mirrorless camera systems compared to SLR systems (e.g. E-mount: 18mm, F-mount: 46.5mm), some lenses could be designed differently. This could result either in a slightly smaller (shorter) barrel, or in a more complex, higher performing lens compared to a comparable SLR lens of the same focal length and speed. Of course, it is not possible to overcome the laws of physics. The diameter of the entrance pupil is always fixed by the focal length and speed.
Completely new optical designs like our [shoplink 46456 ebay]Loxia Distagon T* 2,8/21[/shoplink] benefit from the short flange focal distance of the E-mount, leading to a more compact lens compared to the SLR lens with the same data.
Best regards
ZEISS Camera Lenses Team
This should put an end to the debate if E-mount allows lenses to be more compact than DSLR equivalent lenses! Godfather Zeiss just pronounced the final sentence :)
Links to all Batis and Loxia lenses:
Batis 18mm at [shopcountry 47045].
Batis 25mm at [shopcountry 45790].
Batis 85mm at [shopcountry 45791].
Loxia 21mm at [shopcountry 46456].
Loxia 35mm at [shopcountry 47046].
Loxia 50mm at [shopcountry 47047].
–
Thanks Lucas for spotting this!